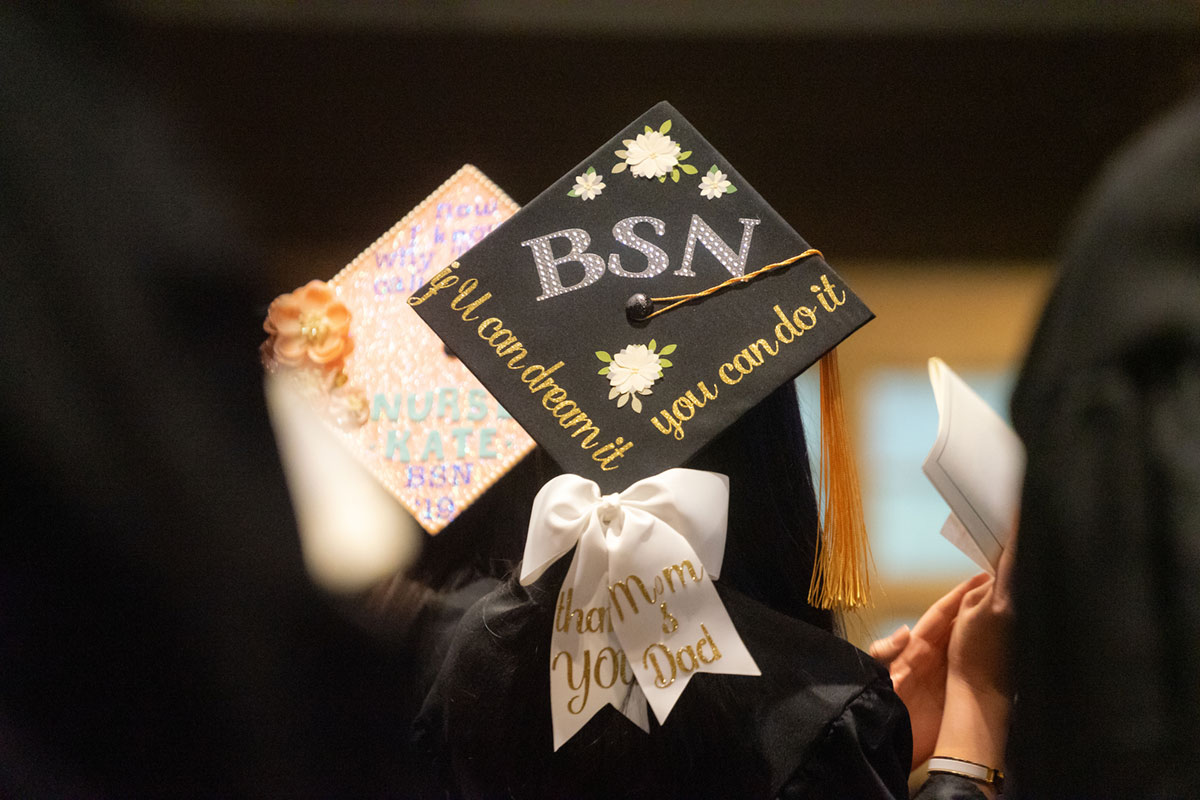 Requirements for Nursing Prelicensure Programs
Admission and application requirements for our prelicensure nursing programs
This information is for students seeking admission into our Bachelor of Science in Nursing (BSN), Accelerated BSN (ABSN) or Master's Entry into Professional Nursing (MEPN) programs. In these prelicensure programs, you will complete all of your major courses in the School of Nursing on our Portland campus. As Linfield maintains a strong commitment to developing nurse leaders, admission to this program is highly competitive. We always complete a holistic review of each application.
Admission requirements:
Applicants must meet Linfield's GPA criteria and fulfill all prerequisite course requirements
Applicants who do not already hold a bachelor's degree must have 62 semester or 93 quarter transferable credits completed before enrolling in the nursing program. (Applicants may be admitted before finishing the minimum credit requirements if they will be complete by the final materials deadline.)
Courses must be completed at regionally accredited community colleges or universities. Official evaluation of all transfer credit will be made after admission into our program.
Please be aware that, generally, professional/technical courses will not transfer. Repeated courses (courses with the same content) will only transfer once.
How to apply:
All prelicensure nursing applicants will apply for admission using NursingCAS, the centralized application system for nursing programs. The NursingCAS Applicant Help Center provides helpful resources to further guide you through the application process.
1) Open NursingCAS using Chrome or Firefox.
Click on the drop-down menu to select the term for which you are seeking admission to and click on "Apply."
Create an application account. Once confirmed, you can "Start Your Application."
Use the filter and search for Linfield University. Only available applications currently open will show. Click on the program name and review the description so you know you're applying to the correct program.
Return to "Continue to My Application" and complete all sections and questions.
You may save your information and return to the application anytime while in progress.
NOTE: If you have previously applied, you must use the same login information.
2) Complete each section within the four parts of the NursingCAS application.
Part one: personal information.
Part two: academic history. Report all colleges and universities you have and are currently attending, even if you withdrew from the institution.

Request official transcripts from each institution. (Current Linfield students must request a Linfield transcript.)
Transcript entry:

You must enter all individual courses completed at every college or university ever attended, including Linfield University, exactly as it appears on each transcript. This includes entering coursework even if you withdrew or didn't pass a course.
Enter courses for any coursework in progress or planned.
Enter test scores such as IB or AP, if applicable. Order official test scores and send directly to Linfield's Office of Admission. Nursing admission exams are not required.

Part three: supporting information. If applicable, enter awards or honors, work experience, licensure or certifications.
Part four: program materials. This section is specific to Linfield programs.

Carefully read the description and answer all questions.
Provide documents if required for your program.
Follow directions for requesting a minimum of one, maximum of two, recommendations.
Match your coursework to the required prerequisites.
When your application is complete, review and submit your NursingCAS application. Pay the $60 fee for an undergraduate program or $80 for a graduate program. A confirmation email is sent to notifications in your NursingCAS account.
IMPORTANT NOTE: Linfield will also charge an application fee of $50 once we receive your application. Both fees are required for admission consideration. Current Linfield students will not be required to pay the Linfield application fee but will be required to pay the NursingCAS fee.
Remember to submit by 8:59 p.m. PST (11:59 p.m. EST) on the identified deadline date.
If you need assistance with your NursingCAS application, please contact NursingCAS customer service representatives directly:
NursingCAS Customer Service
nursingcasinfo@nursingcas.org 
617-612-2880
Monday-Friday, 6 a.m. to 2 p.m., Pacific Time
Transfer credit requirements
Linfield Curriculum (general education):
Our general education requirements, known as the Linfield Curriculum, must be completed to receive your first bachelor's degree at Linfield. These may be completed during the nursing program, but it is recommended that the majority of these courses be completed before enrollment.
Nursing prerequisite courses will satisfy some of the general education requirements, except for these five areas. A three-semester credit or four-quarter credit course are the minimum number of credits required:
Creative Studies (CS)
Ultimate Questions (UQ)
Vital Past (VP)
U.S. Pluralisms (US)
Global Pluralisms (GP)
Application calendar for all nursing prelicensure entry points
If you have completed the nursing prerequisites and are ready to begin your nursing coursework on the Portland campus, the following calendar dates are for you.
If you need to complete all or some of your prerequisite coursework and wish to do so at Linfield, you should apply to the McMinnville campus. You can review the McMinnville campus admission requirements and deadlines.
| Description | ABSN summer | BSN fall | MEPN winter | BSN spring |
| --- | --- | --- | --- | --- |
| Application opens | Sept. 1 | Nov. 1 | April 15 | June 1 |
| Application deadline | Feb. 1 | March 1 | June 30 | Aug. 1 |
| Interviews | N/A | N/A | Aug. 15-22 | N/A |
| Decisions released | March 1 | April 1 | Sept. 1 | Oct. 1 |
| Deadline to accept admission offer | April 1 | May 1 | Oct. 1 | Nov. 1 |
| Compliance and final materials deadline | May 10 | July 10 | Nov. 11 | Jan. 10 |
| Classes begin | Third week of June | Last week of Aug. | Second Mon. in Jan. | First week of Feb. |