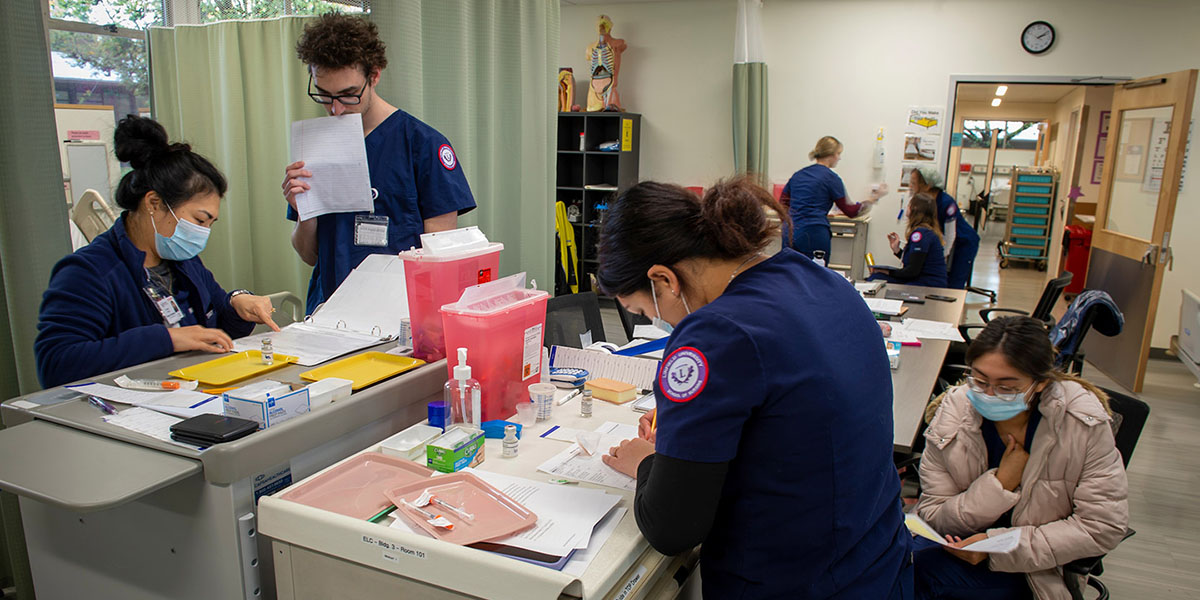 Prerequisites for BSN and ABSN
Prerequisites for first degree and second degree (accelerated) BSN programs
The following are prerequisite requirements for Linfield's prelicensure BSN or accelerated BSN degree programs. If you are applying to our online RN to BSN program, find information about the RN to BSN prerequisites here.
Prerequisite course requirements:
You must have all of the following courses complete (with satisfactory grades, see GPA requirements below) or in progress at the time you apply for admission.
WR 121 and WR 122 or equivalent college writing (minimum three semester or six quarter credits)
Full sequence of biology (must include cell biology) or chemistry with labs
Full sequence of anatomy and physiology with labs (within seven years)
Microbiology with lab (within seven years)
Lifespan developmental psychology/human development (must include conception to death)
Human nutrition (within seven years)
Statistics
Prerequisite course completion requirements:
A minimum of 11-semester credits (16 quarter credits) in the lab sciences (biology/chemistry, anatomy and physiology, microbiology) and all other prerequisite courses must be complete (not in-progress) by the final transcript deadline specified for each start term (see the Application Calendar section of the Admission Requirements page). Successful completion of prerequisites and the resulting grades in these courses are strong factors in the admission decision, so students should have most, if not all, prerequisites complete by the time they apply. We recommend having no more than one or two prerequisite courses in progress at the time a student applies.  
Anatomy and physiology, microbiology, and nutrition must be completed within seven years of the application due date.
Second-degree applicants satisfy the writing requirement by virtue of their first bachelor's degree. No additional writing courses are required.
Grade Point Average (GPA) requirements:
Minimum 3.0 GPA in all prerequisite courses.
Minimum 3.0 GPA in prerequisite science courses (biology or chemistry, anatomy and physiology, microbiology).
Minimum 2.7 GPA in prerequisite anatomy and physiology courses. Only two repeated grades for any anatomy/physiology course will be used in the calculation of the minimum GPA requirements. If you have more than two repeats on any anatomy/physiology course, only the grade from the second repeated course will be used. A "W" (withdraw) from any anatomy/physiology course will be counted as an attempt under this rule.
All GPA requirements are calculated on prerequisite courses complete at the time of application and must be maintained through the completion of all prerequisite coursework.
A letter grade of "C" or higher is required. Any coursework graded C- or below, P/NP, or S/U, does not meet prerequisite requirements and will not transfer to Linfield.
Determine your prerequisite completion
Linfield does not offer unofficial transcript evaluations for prelicensure nursing students. You can use our Transfer Course Guides and/or transfer equivalency system (TES) articulation guides to determine if your courses meet Linfield's nursing prerequisites.
To learn how to navigate these tools, the following video serves as a step-by-step guide.
If you would like to check your prerequisites, please use a prerequisite checklist and search for courses in TES. At this time, we are unable to evaluate prerequisite courses not in our database.