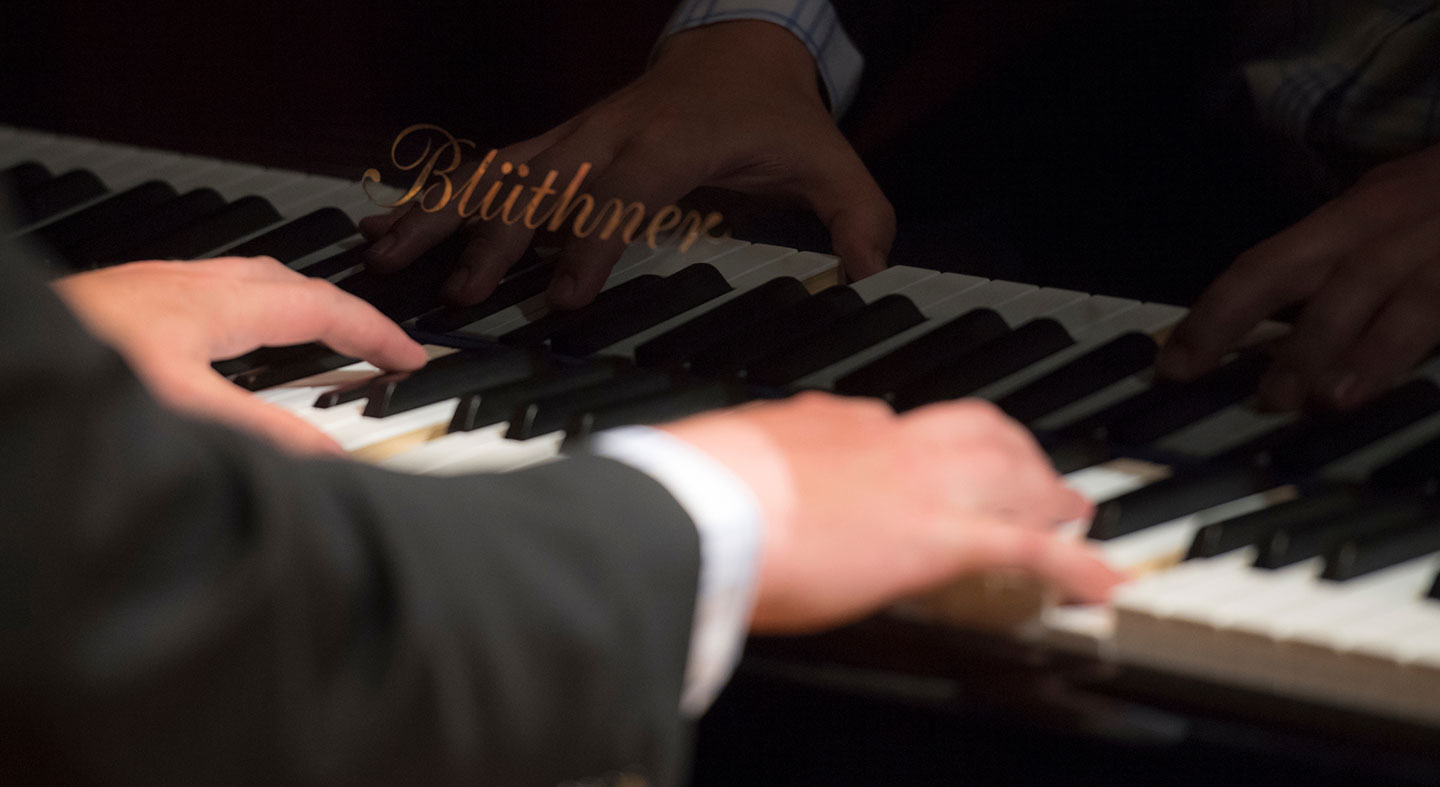 Delkin Recital Hall
The Linfield Department of Music is housed in the Vivian A. Bull Music Center (VBMC), which features:
The acoustically flexible Delkin Recital Hall with two grand pianos and seating for 98
Woolley Rehearsal Hall for band rehearsals
Sound-proof practice rooms each with a piano
Classrooms, faculty offices and studios, student lockers
Music library
Seminar room
Keyboard Lab
Richard and Lucille Ice Auditorium
Located in Linfield's Melrose Hall, Richard and Lucille Ice Auditorium is used for major lectures, concerts, campus awards ceremonies, community events and other functions. It features:
Balcony seating
A Steinway concert grand piano
Alice Clement Memorial Organ: a 48-rank (Casavant, 1969) pipe organ containing over 2300 pipes
Composers Studio
A state-of-the-art composers studio is located in the James F. Miller Fine Arts Center (MFAC) just across the Arts Quadrangle from VBMC. It has become a gathering space for aspiring creative musicians who explore sound and produce new music together.
It features a music technology lab with

 

high-quality equipment

 

that mirrors the type of facility used by music and audio recording professionals.
Creative projects in music and technology are explored in the form of multi-media collaborations, performance art, digital recording and editing, smartphone applications, and professional notation.
A library of sound
In addition to the music library in VBMC, a more extensive collection of music scores, books and recordings is located in the Jereld R. Nicholson Library.
The DigitalCommons@Linfield features Music Scholarship and Creative Works by faculty and students.
Woolley Rehearsal Hall
Housed in the Vivian A. Bull Music Center (VBMC), Woolley Rehearsal Hall features:
Rehearsal space for large and chamber ensembles
Teaching space for applied lessons in music and dance
Instrument storage space
Marley dance floor
Mirrors for dance class and applied lessons