Become a Teacher at Linfield
The Linfield Education Department is composed of passionate educators whose true fortune is developing young professionals seeking to make a difference in the educational system.
Our faculty and staff are invested in your academic and personal well-being. They inspire growth, dedication and compassion while offering individualized support and serving as a critical resource on your journey to becoming a professional educator.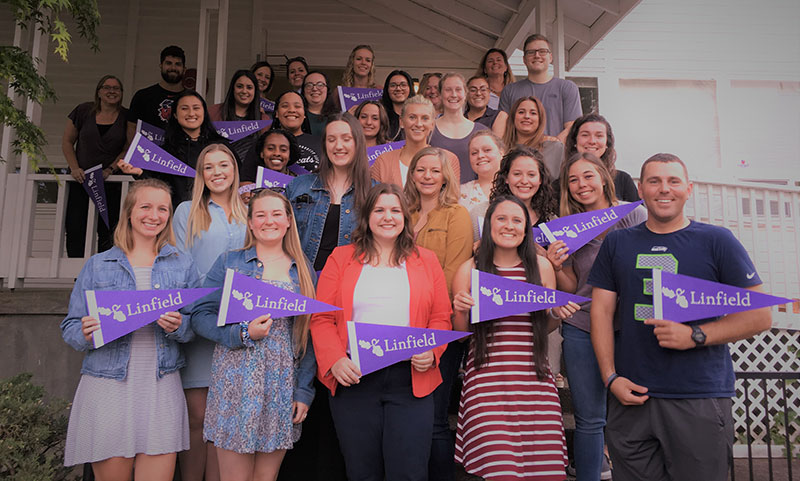 Making an impact on the future
The Linfield Teacher Education Program is hands-on right from the start. Within your first year here, you will be working as an aide in a local school classroom. And by the time you graduate, you will have spent more than 50 hours gaining hands-on classroom experience, not including a full-year student teaching in one of our nearby school districts!
Our Education Department takes deep pride in being able to say that the personalized planning paired with small on-campus class sizes and a hands-on approach to learning has continued to yield successful, passionate graduates who are making a difference!
If you join Linfield's Education Department, you will be able to leave Linfield in four years with a bachelor of arts or a bachelor of science and a license to teach in:
Preschool and Elementary
Preschool, Elementary and Middle School
Middle School and High School
Additional endorsement areas that we offer include:
The Sciences and Math:
Biology
Chemistry
Physics
Middle school science
Advanced mathematics
Middle school mathematics
The Arts:
Language Arts:
Language arts
Middle school language arts
World language: French
World language: German
World language: Spanish
English to Speakers of Other Languages (ESOL):
This endorsement can be combined with any other endorsement
Health and physical education:
Health education
Physical education
Social sciences:
Elementary - multiple subjects
Middle school social studies
Social studies
Contact Us
Mailing Address:
900 SE Baker Street
McMinnville, OR 97128
Physical Location:
1045 SE Davis Street
McMinnville, OR 97128
Phone: 503.883.2646
Fax: 503.883.2686
Email: education@linfield.edu
Follow us on Facebook