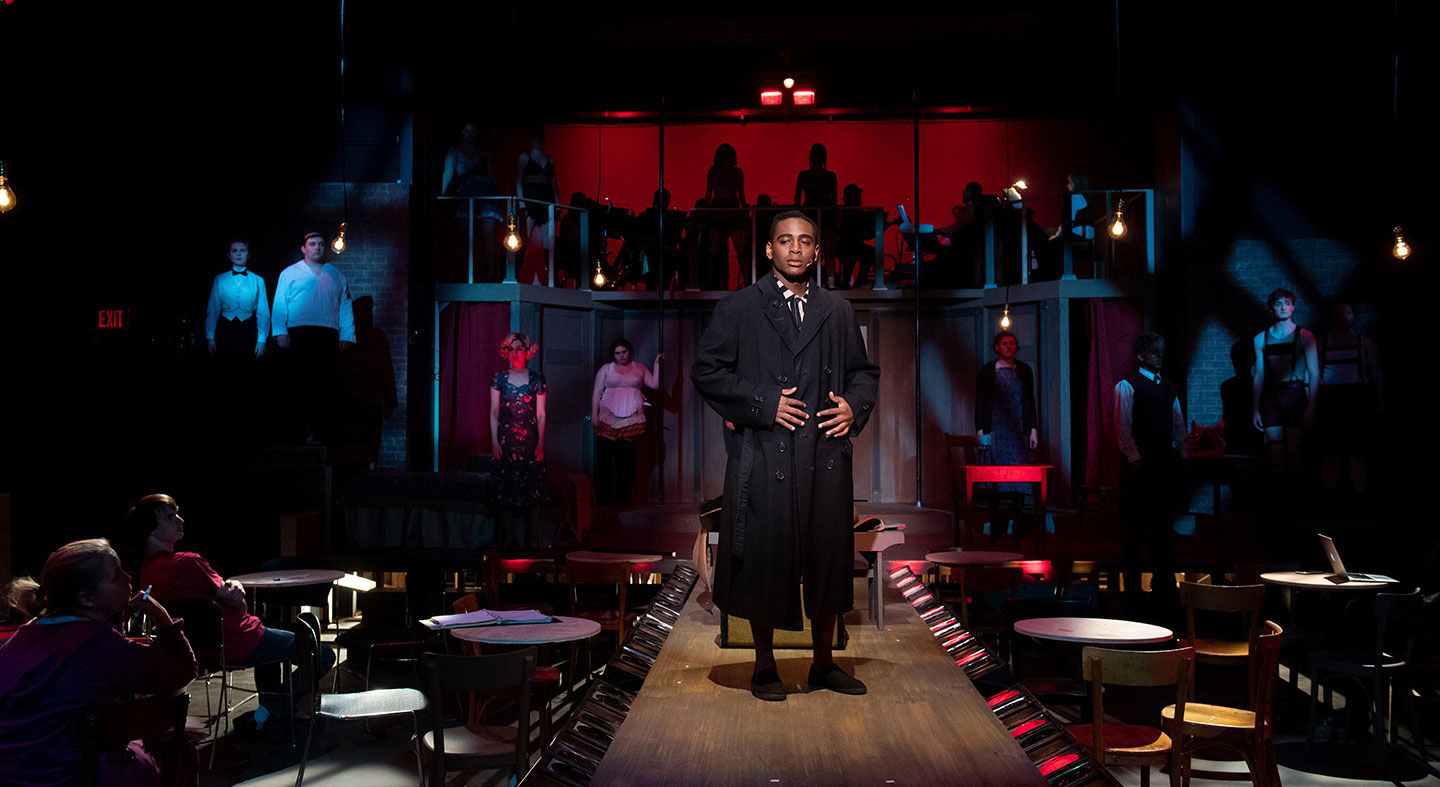 Life in theatre after Linfield
The Linfield Theatre Program provides outstanding instruction in most aspects of theatrical design, production, performance and theatre studies that lead to a wide range of career opportunities for new graduates.
Explore below select examples of careers available in theatre, specific skills you will develop in our programs, internship and employment opportunities, and graduate schools and theatre training programs our graduates have attended.
Types and areas of work in theatre

Set, props and costume construction
Technical direction
Facilities management
Scenic artist/painting
Hair and wig design
Acting for stage, film, and television
Arts and nonprofit management
Accounting for theatres and arts organizations
Teaching and educational work
Theatre for children and youth
Production management
Stage management
Artistic direction
Arts and event marketing
Theatre directing
Theatre scenic, lighting, costume and sound design
Community theatre
Graphic design
Dramaturgy and literary management

Specific skills you can develop within the Linfield theatre program

3-D model making
Costume construction
Drafting and building
Reading ground plans
Publicity
Organizational skills
Troubleshooting
Teamwork
Communication skills
Social media 
Marketing
Scheduling
Photoshop, InDesign
Creating programs, brochures, and posters
Research and analytical skills

In addition to training for positions in theatre, our graduates also receive a high degree of preparation for other opportunities such as post-graduate internships, graduate schools, creative businesses, arts administration and education.

Examples of employers

Artists Repertory Theatre
Actor's Theatre of Louisville
Arizona Broadway Theatre
Bag&Baggage (Oregon)
The Barter Theatre (Virginia)
Boise State University
Bosque School
Clackamas Community Repertory Theatre
Corbett School District
Dunn School
Hale Centre Theatre (Utah)
Kent Washington Schools
Linfield University
Missoula Children's Theatre
Northwest Children's Theatre
Oregon Children's Theatre
Oregon Shakespeare Festival
Penguin Productions
Portland Actor's Conservatory
Portland Center Stage
Profile Theatre (Portland)
University of Memphis
San Francisco Playhouse
Sonoma State University
University of Arizona
University of British Columbia
University of Portland
Utah Shakespeare Festival
Vancouver Public Schools
Wittenberg University

Examples of internships, apprenticeships, and employment after graduation include

Actor's Theatre of Louisville
Artists Repertory Theatre
Broadway Rose
Cleveland Playhouse
Disney, CA
Huntington Theatre, Boston, MA
McCarter Theatre in Princeton, New Jersey
Ohio Light Opera
Oregon Shakespeare Festival
Pacific Center for the Performing Arts
Portland Center Stage
Seattle Children's Theatre
Seattle Repertory Theatre
Taproot Theatre
Third Rail

Examples of graduate programs and theatre training programs

University of Arizona
Boston University
Brown University
University of British Columbia
Carnegie Mellon University
University of Cincinnati
City University London
Cornell University
Florida State University
University of Iowa
University of Memphis
Pacific Conservatory of the Performing Arts
Portland State University
Pratt Institute
Rutgers University
Stony Brook University
United Performers Studio–Tokyo
University of Washington
"Theatre studies provide students with a range of skills that can be usefully employed across occupations. Engaging with theatre arts shapes people to be articulate communicators, effective listeners, perceptive thinkers and task-oriented leaders. Performing in the theatre or spending an evening as a spectator creates a sense of community that can ripple into wider social spheres. Theatre education prepares citizens to function effectively and joyfully in cultural life."
—Jill Dolan, Dean and Professor of Theatre, Princeton University
Careers in communication arts
The possibilities are endless, really! Some of our graduates have landed in roles such as:
Speechwriter
Public speaker
Communication consultant
Mediation specialist
Editor
Language arts teacher
Advertising executive
Scriptwriter
Human resources manager
International business
What will you pursue?