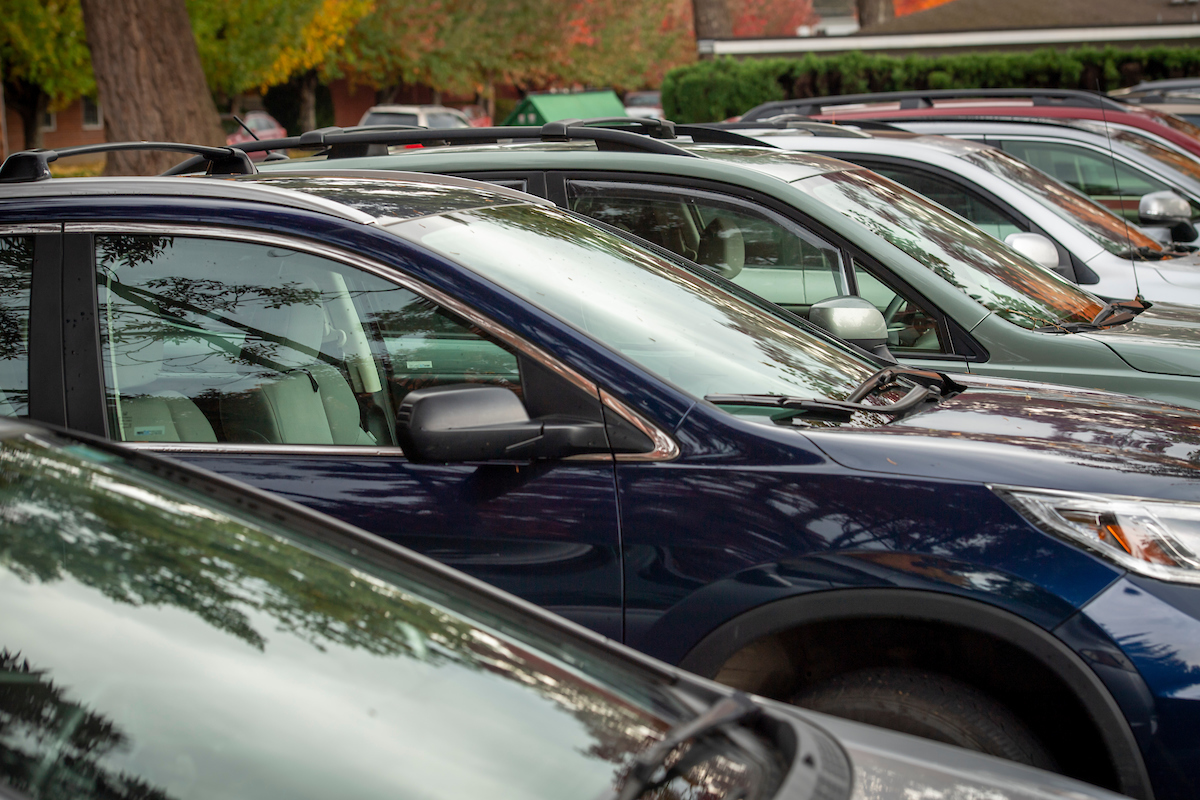 Traffic and Parking Regulations
Making Linfield - and its roadways - safe for all
We are glad that you are visiting, living, studying or working at Linfield. Now that you're here, we hope you have a fun and safe time - and that includes when you transport yourself and others around campus.
Linfield University enforces all motor vehicle laws as defined in the Oregon Revised Statutes, as applicable to campus. Law enforcement agencies also patrol campus streets and may assess violations of Oregon law as they see fit.
You are completely responsible for the vehicle you register with Linfield Public Safety. Any and all violations, citations, etc., issued to your vehicle are your responsibility, no matter who was operating the vehicle at the time the violation occurred.
Driving on campus
The words "motor vehicle" or "vehicle" means any type of motor-powered conveyance including, but not limited to, automobiles, trucks, motorcycles and motorized scooters.
The speed limit on all campus streets is 15 mph, unless otherwise posted.
Any motor vehicle driven on Linfield property shall be operated by a legally licensed and insured driver. The driver will have the license in their possession at all times when operating their vehicle.
Anyone operating a motor vehicle on campus shall observe speed limits, barricades, stop signs and all other parking and traffic regulations and shall drive in a safe and prudent manner.
Drivers will comply with all lawful directions given by Linfield Public Safety and/or law enforcement.
Parking on campus
Note: "parked" refers to any vehicle that is stopped and/or waiting, regardless of the period of time the vehicle is stopped or whether a driver is present, except for vehicles immobilized by traffic control officers, congestion or accident. 
All Linfield community members (students, faculty and staff) are required to have and properly display a current Linfield parking permit when parked on any Linfield-owned property.
Parking must be in marked parking spaces.
Linfield community members may not park in visitor parking areas at any time.
Parking in FIRE LANES is prohibited.
Parking in DISABLED space without a valid state-issued disabled permit is prohibited for any length of time. Be aware that parking in a striped disabled loading zone adjacent to disabled parking space counts as a disabled parking violation. Law enforcement can also issue citations for disabled parking violations and that citation is a lot more than a campus citation.
Vehicles parked or standing for any length of time in areas marked by red curbs, fire lanes, loading zones, crosswalks, landscaped areas, sidewalks, areas needed for truck access to trash dumpsters or areas marked by "No Parking" signs are considered illegally parked.
No overnight parking areas are strictly enforced between the hours of 2-5 a.m.
Responsibility for locating a legal parking space rests with the operator of the motor vehicle. Lack of space will not be considered a valid reason for violating any Linfield parking regulation.
Parking on Founder's Way (in front of T.J. Day, Melrose and Riley Halls) is restricted to visitors, disabled parking, and two 15-minute short-term parking zones.
Parking behind Dillin Hall is prohibited for students; this area is reserved for Dillin/Sodexo employees only.
No parking, except for service vehicles, is allowed in the area directly behind Newby Hall.
Special authorization is needed to park in the area adjacent to the football field (by the concession stands). Unauthorized vehicles are subject to tow at the owner's expense.
EV charging stations can be used by the public/visitor while actively charging a vehicle. Linfield community members must have a current Linfield parking permit properly displayed when using EV stations.
During library business hours of 8 a.m.-9 p.m., guests/visitors parking on Library Court do not require a permit. Linfield community members must have a current Linfield parking permit to park on any Linfield-owned property at any time, including Library Court.
Overnight parking is prohibited in the following areas:

Founders' Way
Library Court (the Library's west parking lot)
Vivian Bull Music Center staff parking
Marked areas on the north end of Renshaw Avenue
The small lot adjacent to Cook Hall
Any loading zones, 15-minute parking areas and visitor parking areas.
Violations, penalties and towing
Disregard of regulations render the owner and/or operator of a vehicle liable to fines and/or disciplinary actions. Citations may be delivered to the driver of an offending vehicle or mailed to the owner or person responsible for the vehicle, but in most instances will be left on the offending vehicle.
Linfield is a private institution. Vehicles on Linfield property may be towed due to extenuating circumstances. Efforts will be made to contact the responsible person(s) to move a vehicle prior to the department having them towed.
Vehicles may be towed at the owner's risk and expense for any violation of university traffic or parking violations. Towing of a vehicle does not relieve the owner of responsibility for payment of any fines.