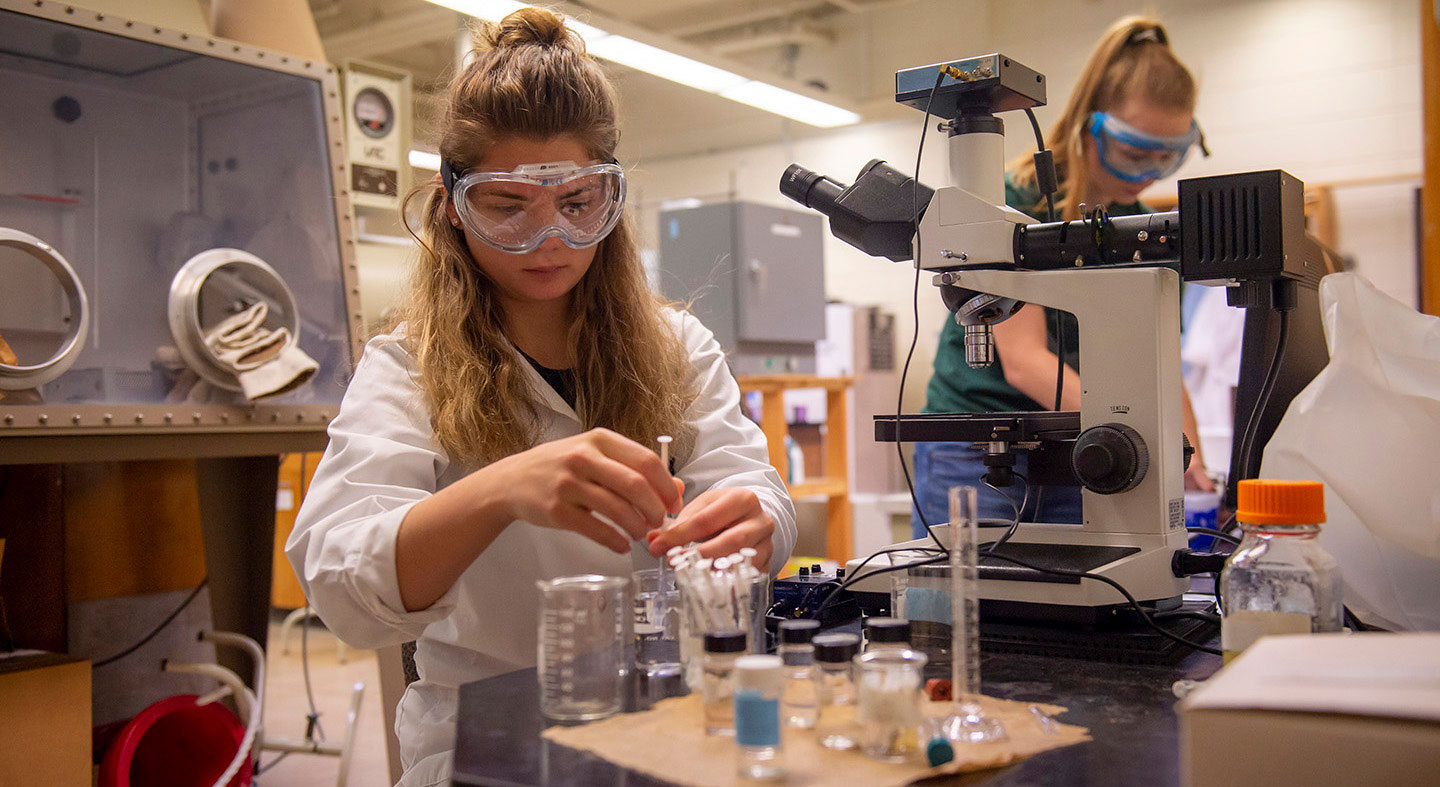 Your chemistry degree will open doors for your career
As a chemistry major at Linfield studying the foundation of matter and its interactions, you are part of the next generation of scientists that will tackle big questions related to issues such as:
Disease
Medicine
Agriculture
Policy
As such, you are encouraged to consider the diverse career paths open to chemists in the five main sectors:
Industry: Medical, Applied Research, Quality Control, Manufacturing, Sales
Academia: Professor, Basic Research, High School
Government: Public Health, Environmental Protection
Non-Profit: Science Policy, Public Outreach, Social Impact/Activism
Entrepreneurship: Consulting
Check out the American Chemical Society's College to Career website for more ideas!
Departmental Alumni
Chemistry department graduates have an impressive record of successfully entering graduate programs, medical schools, pharmacy schools and obtaining industrial positions. Since 2005, 86% of our majors have been admitted to a graduate program (in chemistry or a health-related field).
Students who completed majors in a second department are noted; graduates who have completed the requirements for American Chemical Society certification are notated with (*).
Class of 2020

Haley Smith: Ph.D. student at University of Oregon
Zachary McCleod
Fatima Falcon-Ontiveros: Medical Interpreter for Professional Interpreters Inc., Salem, OR

Class of 2019

Andrew Fischer: Precision Analytical
Kaedi Fry (chemistry/mathematics double major)
Olivia Hollenbeck
Luis Perez Morales (chemistry/mathematics double major): physical chemistry student at University of Oregon
Luke Rahn

Class of 2018

Zane Bradshaw*
Jamie Talbo

Class of 2017

Madison (Gladding) Monahan: Chemistry Graduate Student, Ph.D. program, University of Washington, Seattle, WA
Sadie Grasle (chemistry/secondary education double major): Science Instructor, Sandy High School, Sandy, OR
Alex Keyes: Pharmacology Graduate Student, Ph.D. program, University of Iowa, Iowa City, IA
David Mason*: Chemistry Graduate Student, Ph.D. program, University of Arizona, Tucson, AZ
Chris Munjar: US Teaching Assistantship at Austrian Secondary Schools Program
John Remeto
Allison Smith*: Chemistry Graduate Student, Ph.D. program, University of Arizona, Tucson, AZ
Shelby Vanaken: Graduate Student, Master's in Education, Portland State University, Portland, OR

Class of 2016

Tanner Corrado*: Ph.D. candidate, Department of Chemical and Biomolecular Engineering, University of Notre Dame, South Bend, IN
Brenna (Stinson) Gomez: Oregon State University Carlson College of Veterinary Medicine, Corvallis, OR
Joseph Perryman*: Chemistry Graduate Student, Ph.D. program, University of California, Davis, Davis CA

Class of 2015

Evan Carlson: Precision Analytical, McMinnville, OR
Caitlin Conlon
Malley Nason: Research Associate, Indi Molecular, Culver City, CA
Kevin Romero*: Ph.D. Candidate, Organic Chemistry, University of Michigan, Ann Arbor MI

Class of 2014

Dr. Kathryn Corp: Ph.D. Physical Chemistry, Univ. of Washington, 2019; Senior Engineer at OPUS 12, Berkeley, CA
Jason Hight: Environmental Technician II, McMinnville Water and Light, McMinnville, OR
Sara Patty: R&D Chemical Technician, 3D Systems, Wilsonville, OR
Yura Sim
Stephanie Stovall: Research Assistant, Oregon Health & Science University, Portland, OR

Class of 2013

Andrew Carpenter: M.S., 2016; Ph.D. candidate, Physical Chemistry, University of Oregon, Eugene OR
Amy Cunningham: Ph.D. program, physical chemistry, University of Nevado, Reno, Reno, NV
Daniel Urness: Medical School, Oregon Health & Science University, Portland, OR

Class of 2012

Joseph Mullen: HACCP Supervisor, Tyson Foods
Joell Reyes: B.S., in Nursing, Seattle University, 2017; Swedish, Seattle WA

Class of 2011

Yuhong Cao: chemistry graduate student, Ph.D. program, Stanford University, Stanford CA
Dr. Halee Hyatt: Associate Dentist, Bellingham, WA; D.D.S., University of Washington, 2015, Seattle, WA
Christopher Jenness (chemistry/biology double major): biochemistry graduate student, Ph.D. program, Rockefeller University, New York, NY

Class of 2010

Dr. Diane Morgan: Pharm. D., University of Southern California, 2015; Clinical Pharmacist, San Diego, CA
Veronica Siller (chemistry/mathematics double major): Laboratory Coordinator, Linfield University, McMinnville, OR
Dr. Dylan Sorber: D.M.D., Oregon Health & Science University, 2014
Katie Sours: M.P.H., Boston University, 2013; S.N.A.C.K. Coordinator, Physicians Medical Center, McMinnville, OR
Dr. Victoria Treadaway: M.S. 2015 and Ph.D. 2019, Oceanography, Univ. of Rhode Island; Univ. of Miami, PostDoctoral Assistant

Class of 2009

Daniel Creasy: B.S., Electrical Engineering, University of Alaska, Fairbanks, 2017
Dr. Jeneva Foster: Ph.D., Biochemistry,  University of Oregon, 2015; Instructor, Biochemistry, Oregon State University, Corvallis, OR
Dr. Evan Hiles: D.P.T., Pacific University, 2013; Physical Therapist, Hillsboro, OR
Dr. Rachel Kaneta: D.O., University of California, Berkeley, 2015; Optometrist, United States Air Force
Dr. Janine Lee: PharmD., Oregon State University, 2014; Clinical Pharmacist
Dr. Jessica Petrovich: M.D., Oregon Health & Science University, 2017; Family Medicine Resident, University of Utah

Class of 2008

Class of 2007

Dr. Ehow Chen: Ph.D., Physical Chemistry, Northwestern University, 2012; VP, Customer Insights, Ambition Data, LLC, Portland, OR
Dr. Lee Chiat Ch'ng: Ph.D., Physical Chemistry, University of Southern California, 2013; Intellectual Property Engineer, Singapore
Randi (Duchemin) Marx: M.S., Molecular Biology, University of Oregon, 2011; Senior Scientist, Product Development, Lonza Group, Bend, OR
Cathy Pham: Research Assistant, Nunhems, Sacramento, CA
Fan Shi (chemistry/mathematics double major): M.S., Statistics, University of Chicago, 2010, Chicago, IL;  Strategic Analytics Director FCB Global, Chicago, IL
Dr. Chinmayee Subban (chem/bio double major: Ph.D., Chemistry and Chemical Biology, Cornell University, 2011; Energy/Environmental Policy Research Scientist/Engineer, Lawerence Berkeley National Lab

Class of 2006

Dr. Hannah (Arntz) Hatley: Doctor of Pharmacy, Pacific University, 2009; Pharmacist, Burns, OR
Molly (Corbari) Lundy
Theresa Crecelius: University of Washington, B.S., Medical Technology
Mujib Kamawal: Project Manager/Professional Engineer
Dr. Melissa Galloway: Ph.D. Analytical Chemistry, University of Wisconsin, Madison, 2011; Assistant Professor, Analytical Chemistry, Lafayette College, Easton, PA

Class of 2005

Verina Kranak: Studio Manager, TheaterLab, New York, NY; Master of Science, Materials Science, Arizona State University M.S. 2012, Tempe, AZ
Dr. Robert Osten: Pacific University (Pharm. D., 2011)
Dr. Becky (Price) Colman (chem/biol double major): Ph.D. (Biology/Biological Sciences), Northern Arizona University, 2010; Postdoctoral Researcher, University of California, San Diego
Dr. Hilary Stricker: M.D., Medical College of Wisconsin 2009, Milwaukee WI