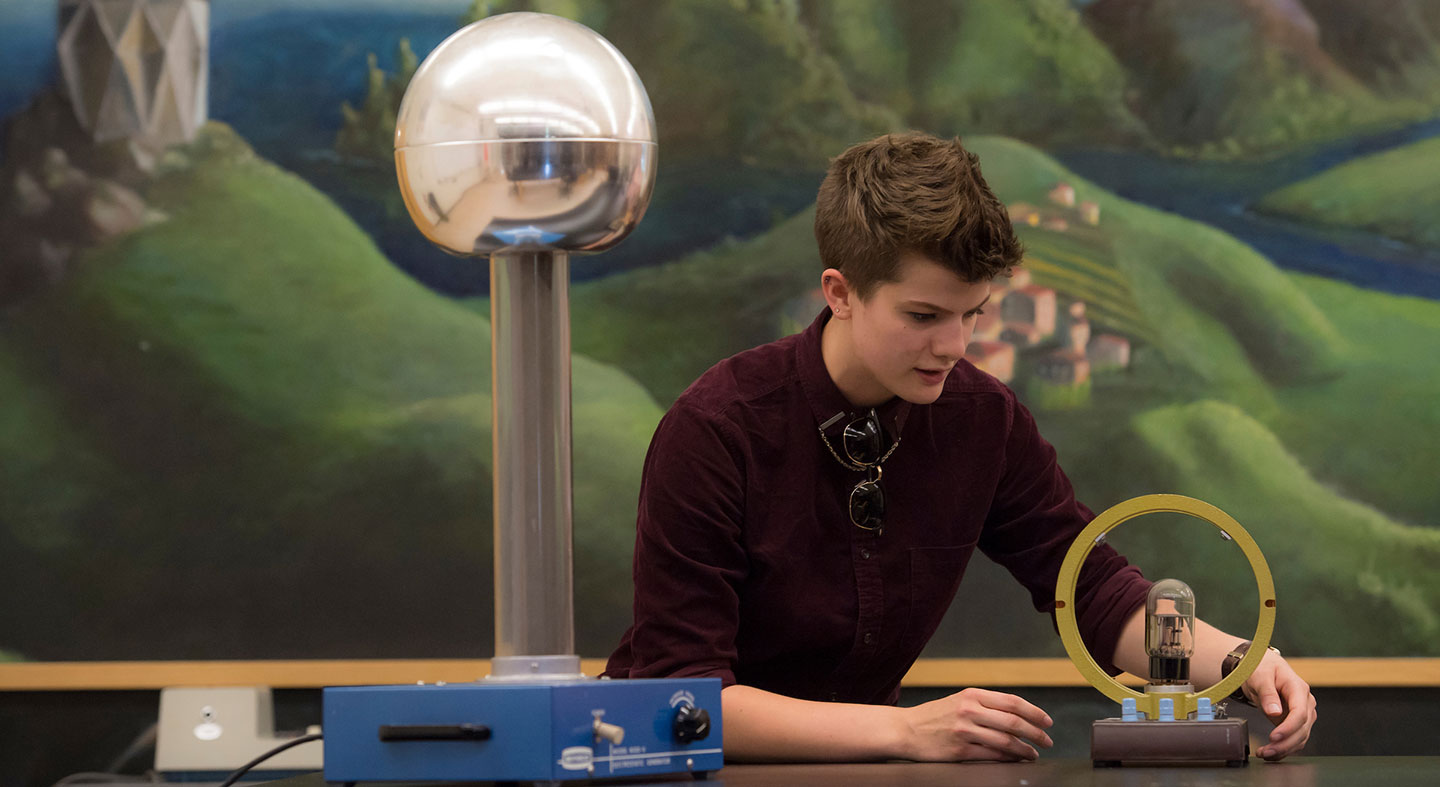 Studying physics at Linfield
Jump right in
And get hands-on experience with physics research, engineering design and teaching.
Our department hires students to work on a variety of active research and design projects, ranging from studying two-dimensional materials for future new technologies, to creating computer simulations of complex behavior, to designing new products using magnetic nanoparticles. You can also hone your teaching skills by conducting tutoring sessions and assisting in laboratory sessions.
With our welcoming community and student-centered teaching approach, you will find a place and a passion in the physics department.
Design your own future
At Linfield, you'll meet students with widely-ranging interests; your physics or engineering classmate may study abroad in France, perform in an ensemble or compete in football. What about you – political science? Creative writing? Business?
Faculty will closely guide you as you build a unique resume of courses and experiences culminating in a year-long research or design project. These experiences set Linfield graduates apart. Pursue your passion after graduation, whether that means employment at firms like Intel, entering a top engineering or physics graduate program, working or studying abroad, going to medical school, becoming a teacher or pursuing other goals.
A unique curriculum
Unusual for a small liberal arts university, we offer two majors, in physics and applied physics, giving you a broader array of elective courses.
If you wish to dive deeply into the physics and mathematics that describes our physical universe, you will revel in the physics major.
If you're drawn to a more hands-on bent, you may prefer the engineering emphasis of the applied physics major.
Many students balance courses from both sides, securing a unique preparation for our increasingly interdisciplinary world. One where an electrical engineer may be studying quantum computation, requiring higher-level physics preparation than is typically provided by an engineering degree. Or, a physicist may be studying medical instrumentation and requiring some mechanical and electrical engineering knowledge.
Contact us
For more information about studying physics at Linfield, please feel free to contact our department chair. We look forward to connecting with you!
Michael Crosser
Professor and Department Chair
900 SE Baker St, Graf Hall, Unit A468, McMinnville, OR 97128
503-883-2425
mcrosse@linfield.edu