Check your transfer credits with Transferology
If you're looking to transfer credit into Linfield, we encourage you to assess how your coursework completed at other institutions may transfer. Using Transferology, you can easily find the courses you have completed at another institution and submit them for a quick assessment. All courses approved for transfer must meet all Linfield transfer policies.
Although all transfer policies must be met, we want to call specific attention to these three overarching policies.
Completed at an institutionally accredited college or university.
Awarded a grade of C (2.0) or higher (Demonstration of a C or better is required for transfer of Pass/Fail courses.
Courses taken on the quarter calendar system will transfer as 2/3 of the transcripted credits. See "semester vs. quarter credits" for more information.
Getting started 
As you use Transferology to get an understanding of how your coursework may transfer into Linfield, please keep these things in mind:
Once you create a Transferology account and enter your courses, your information will stay in the system, and you can return at any time to update your courses and check for Linfield updates.
Transferology will not ask for the grades you received in previous coursework, so only enter in courses for which you received a C or better when sending them for evaluation. Even if a course is considered a "match" for Linfield credit, please know that no credit will ultimately be awarded for courses in which you earned a C- or lower when we do your official assessment upon your admission to Linfield.
If you are planning to apply to any of our Nursing programs, please see the information below under Important Information for Prospective Nursing Students.
Check out our Welcome to Transferology video!
Transferology step-by-step
Check out this video or follow the steps below!
Step 1: Create Your Account
Login at https://www.transferology.com/school/linfield. Using the Linfield specific URL to login will expedite the process of matching your previous coursework to Linfield course credit.  
Step 2: Find and add your courses
First, enter one of your previous institutions(s) to find the courses you enrolled in
Then select the term and year and type out the course department name (course abbreviations) for your courses.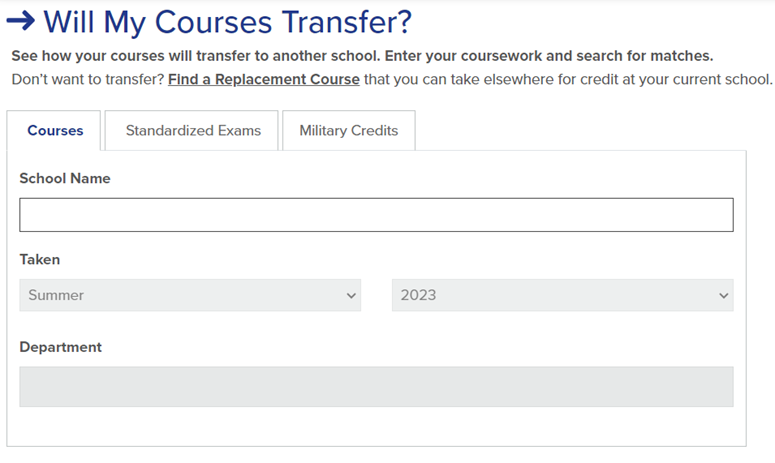 After doing this, you will see a list of courses offered at your school during that term. Just click on the "+" to add all the ones you took (and earned a C or higher) to your list.
Once you have found all your courses for a particular school, you can type in another school, term, year and department and add more classes.
Step 3: Search for matches at Linfield
As you add your courses, you will see that your "My Courses" section on the right-hand side of the page will populate with all the courses you completed, listed by school. Click on "Search Matches" to preview your courses.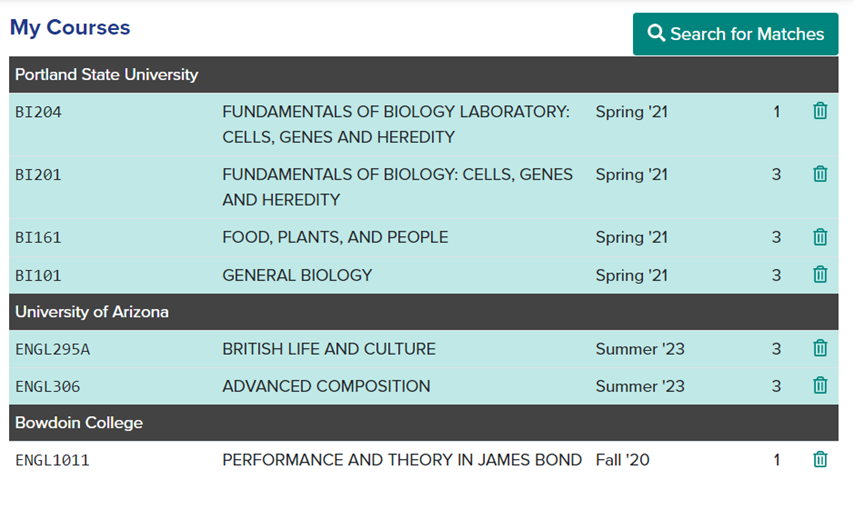 Step 4: Filter by Linfield
To see how these courses may transfer into Linfield, click "Filter by School Name" box and type in "Linfield University."
Then, click on the Linfield University "Match" box. You will see that your course will fall under three different tabs: "Matches," "Maybe," and "Misses."

Matches: these are courses that have been previously approved for transfer credit at Linfield. You may see an "Expand all notes" to the right of the matched courses. If you click on that, you will see notes from our Registrar's office about how these courses may transfer. Pay particular attention to those with one of these designations, which show that they will fulfill an area of our Linfield Curriculum, our general education requirements:
INQS: Inquiry Seminar
UD: Upper Division/ Mode of Inquiry
CS: Creative Studies
IS: Individuals, Systems, and Societies
NW: Natural World
QR: Quantitative Reasoning
UQ: Ultimate Questions
VP: Vital Past
US: U.S. Pluralisms
GP: Global Pluralisms
Misses: These are courses that have previously been evaluated and were not a match for transfer credit at Linfield.
Maybes: These are courses that have not yet been evaluated and you are able to request an evaluation by clicking Request Information in the next step.
Step 5: Send us your courses and request an evaluation by clicking Request Information
If you would like to send us a copy of your courses and request an evaluation of the courses deemed a "maybe", you can do so by clicking on Request Information on the right-hand side, above the Linfield logo.
On the short "Request Information" form, please provide:
Program: this is your intended major. If you plan to apply for our Nursing program, it is important to list this here.
Any other information you would like about Advising, Campus Visit, Admission, Financial Aid or Veteran's Resources by checking the box (check as many as apply)
In the Custom Message in the box, please include the following information to request an evaluation for your course/courses:

Your intended start term.
Campus of interest (McMinnville, School of Nursing, Online), so that we may connect you with the right counselor.
Date of Birth – MM/DD/YYYY for example 06/05/1999 (this helps us check whether you are in our system and avoid creating duplicate student records.)
Once complete, click on "Send to Linfield University."
Step 6: Check your email
The Office of Admission will be in touch within  1 business day. If we need additional information, we will ask you to submit a short form to help us complete your evaluation.
Please note that we will make every effort to provide you with helpful information about your transfer credit. Every applicant who is admitted to Linfield is provided with a full evaluation of their previous coursework. As such, we may not be able to assess every course submitted by a prospective student who hasn't yet applied.  However, all students will receive information about whether your previous coursework will transfer in for some credit.
Important information for prospective nursing students:
Students who intend to apply to our prelicensure Bachelor of Science in Nursing programs (BSN or Accelerated BSN) or our Master's Entry into Professional Nursing (MEPN) should review our prerequisite requirements for these programs. 
All prerequisites must be completed before starting the program and must meet the GPA requirements.
Two of our prerequisite requirements (in anatomy and physiology and microbiology) must be completed within seven years of the application due date.
Additionally, if you're applying to our BSN program without a first degree, you should plan to have most of our Linfield Curriculum (or LCs - our general education requirements for all majors) complete before starting the program.
You are encouraged to use Transferology to check and see if your courses will fulfill the prerequisites and Linfield Curriculum requirements, but this tool will not tell you if you have met the GPA requirements or if a prerequisite can be fulfilled with courses from multiple institutions. This is especially applicable for the anatomy and physiology requirement. Please review these requirements carefully before applying to the program.