Art at Linfield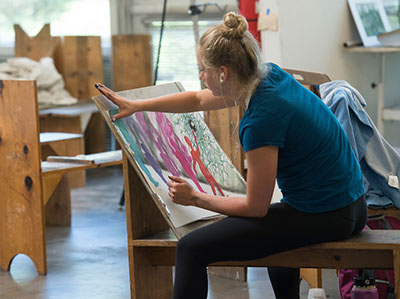 The faculty members of the Department of Art provide you with technical, historical, and philosophical instruction in the visual arts. You may elect to major in studio art, digital art, or to minor in studio art, digital art, or art history.
Art history courses and lower-division studio courses will introduce various aspects of the visual arts to students seeking to fulfill the requirements of the Linfield Curriculum.
We are committed to instilling visual and conceptual literacy, and to providing the technical and intellectual skills necessary as a foundation for a wide variety of careers in the fine and applied arts. A major goal of the faculty, as practicing artists and scholars, is to impart an understanding of the lifelong vitality of artistic development and practice.
The Art Department at a Glance
The Art Department resides in the James F. Miller Fine Arts Center on the Keck Campus of Linfield University. This facility offers students beautiful studios and workspaces.
The department offers courses in foundations, drawing, painting, printmaking, photography, alternative and electronic media, sculpture, ceramics, and ceramic sculpture. Regularly offered art history courses cover a range of topics including non-Western visual cultures, modern and postmodern art, and the history of photography. The department also has several non-traditional studio offerings, such as a course in alternative media, which deals with performance art, conceptual art and video. Additional studio offerings include electronic media and digital photography.
Most of the department's courses satisfy the Linfield Curriculum's Creative Studies requirement, and several of the art history courses also satisfy the Vital Past, American Pluralisms, and Global Diversity requirements.
The design, drawing, photography, ceramics, and art history courses are open to all students; other studio courses numbering 300 and above normally have prerequisites.
Art majors are required to take two- and three-dimensional design and drawing; three studio electives of their choice; studio practices; portfolio development and gallery management courses; and three art history courses, including an introductory course to visual culture and two courses on modern and postmodern art. As seniors, majors may elect to take the thesis seminar and present a thesis exhibition at the end of their senior year. 20-credit studio and visual culture minors are also offered.
See other pages on this site for greater detail about these and other aspects of the Linfield University Art Department.