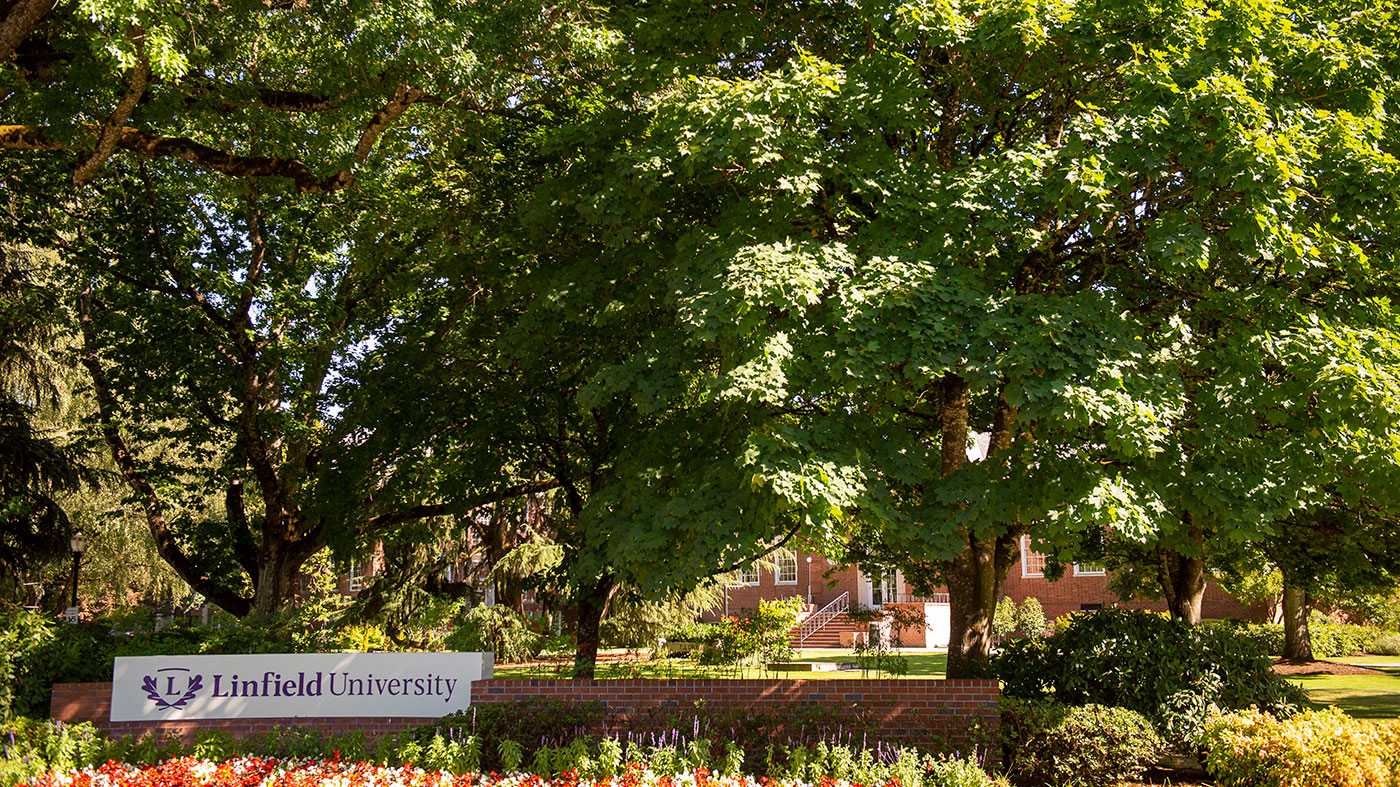 Meet Linfield's newest faculty members
A group of new professors joins the Linfield community every fall. Some are local and others are experiencing the Pacific Northwest for the first time, but all of them have a story to tell. Meet the seven new Linfield faculty members from the Portland and McMinnville campuses.
Jordan Ferris
Visiting Assistant Professor of Nursing
It's understandable if you want to call Professor Ferris her pseudonym: Nom Nom. Ferris, a former roller derby athlete, is one of the Rose City Rollers' lead announcers. Outside of roller derby, Ferris is an avid reader. She believes she read more than 80 books last year.
Ferris joined the Linfield-Good Samaritan School of Nursing in February 2019. She earned her BSN from Walla Walla College in 2006 and MSN from St. Xavier University in 2018. Ferris is interested in LGBTQ health disparities and inequalities as well as drug and alcohol addiction disparities and inequalities.
Natalie Welch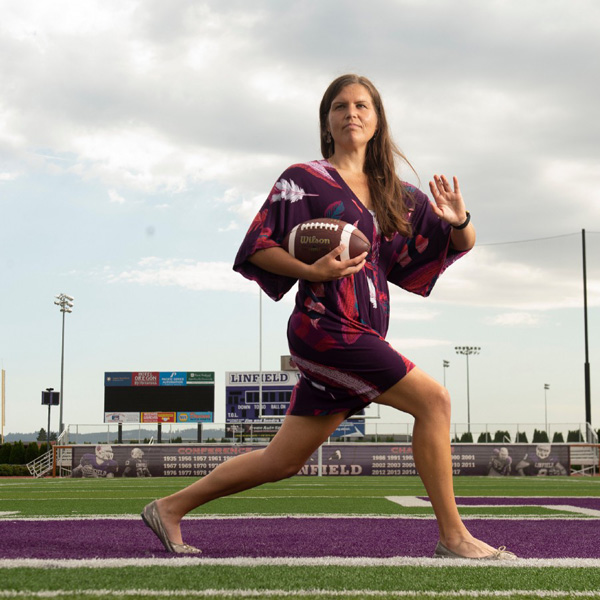 Assistant Professor of Business
Professor Welch is Linfield's first sport management professor. She returns to the Pacific Northwest after a three-year absence. From 2012–2016 she was a content producer and assistant media planner for the marketing agency Wieden+Kennedy.
Welch bleeds orange. An avid Tennessee Volunteers fan, she earned her B.S in sport management and Ph.D. in kinesiology and sport studies from the University of Tennessee.
She is an enrolled member of Eastern Band of Cherokee Indians and raised on the Cherokee Indian Reservation in Cherokee, NC. Welch created a podcast with Native American athletes called The CreativeNative Podcast to honor her heritage.
Matthew Minicucci

Visiting Emerging Writer/Teacher Fellow
By virtue of joining Linfield's faculty, Professor Minicucci increases the number of Linfield's Oregon Book Award winners to three. He won the 2019 Stafford/Hall Oregon Book Award for Poetry, Small Gods. His first book, Translation, was chosen by Jane Hirshfield for the 2014 Wick Poetry Prize at Kent State University Press.
Besides being an award-winning writer, Minicucci can be found on the small screen as an extra. Recently, he appeared as an extra in Here and Now, a recent Alan Ball series on HBO. One of the most memorable moments during filming was his first time meeting with the wardrobe supervisor. The stated instructions were "to dress like a Portland hipster." Upon arriving in his normal, everyday clothes, the wardrobe supervisor looked him up and down and said, without a beat, "I wouldn't change a thing."
Shanna Bowman
Assistant Professor of Biology
If you've ever wondered why a person's eyes, skin and hair are a certain color, then seek out Professor Bowman. Her research focuses on the biology of pigment cells as well as how pigment cell pathways become defective in skin cancer.
Her gardening skills may be on-par with her research. Bowman grew up on a small farm in western Pennsylvania and enjoys experimenting in the garden. When she's not gardening, you're likely to find her exploring the Pacific Northwest, hiking and visiting national parks.
Sandra Davis
Assistant Professor of Nursing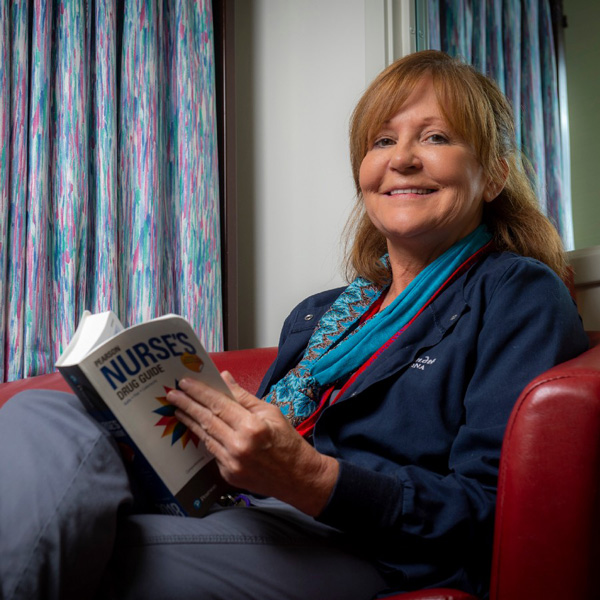 Once you meet Professor Davis, you've met history. Kind of. She loves the concept of "Six degrees of Separation." Her late grandfather, Edward Dunham, shook the hand of a man who shook the hand of Abraham Lincoln. So, now, you're four degrees from the 16th President of the United States.
Inside the classroom, Davis' scholarly interests include nursing simulation, pathopharmacology, acute and chronic care, evidence-based research and leadership. Her research interests include collegiality among nurse educators and job satisfaction and role persistence, as well as undergraduate nursing simulation and stress.
Oh, you're also four degrees separated from President John F. Kennedy — Davis' dad drove the 35th president around for a day as a sergeant in the United States Air Force.
Brandon Wilkinson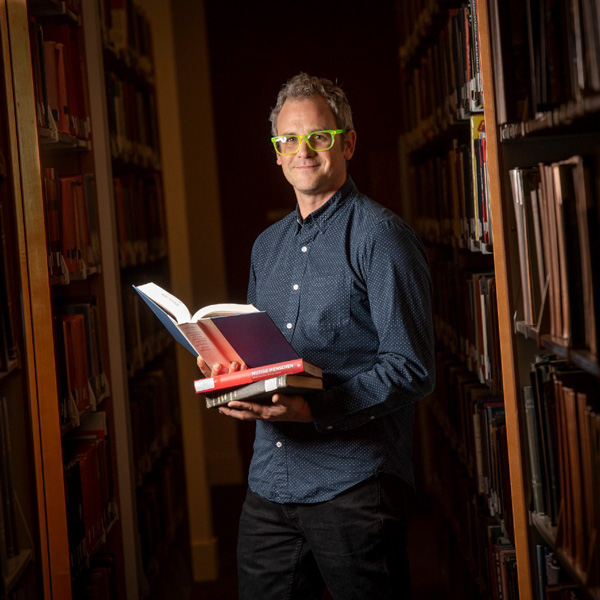 Visiting Assistant Professor/Reference Librarian
As far as Professor Wilkinson is concerned, his Nicholson Library office might be in the perfect location. It's located next door to the Miller Fine Arts Center, the ideal neighbor for someone with a BFA in painting. Wilkinson also has his own art studio where he makes realistic oil paintings of garbage, the desert, rocks and dirt, and more. You can even see some of his work in his office.
Wilkinson has a longer history with Linfield than most new faculty members. He joined the faculty in March 2018 as a visiting teaching and reference librarian. While he continues some of that work, he is also the Online and Continuing Education (OCE) librarian and also supports online students through the RN-BSN program and any other OCE library needs.
Kiki Fornero
Assistant Professor of Nursing
The arts theme continues with Professor Fornero. When she's not in simulation labs (her favorite mode of teaching), she might be found playing the violin as part of the Hillsboro Community Orchestra.
Academically, her interest centers on critically questioning existing structures in an effort to remove barriers and promote equity for people in larger bodies. She enjoys supporting students through Linfield's rigorous nursing program and helping them build confidence in their nursing practice.