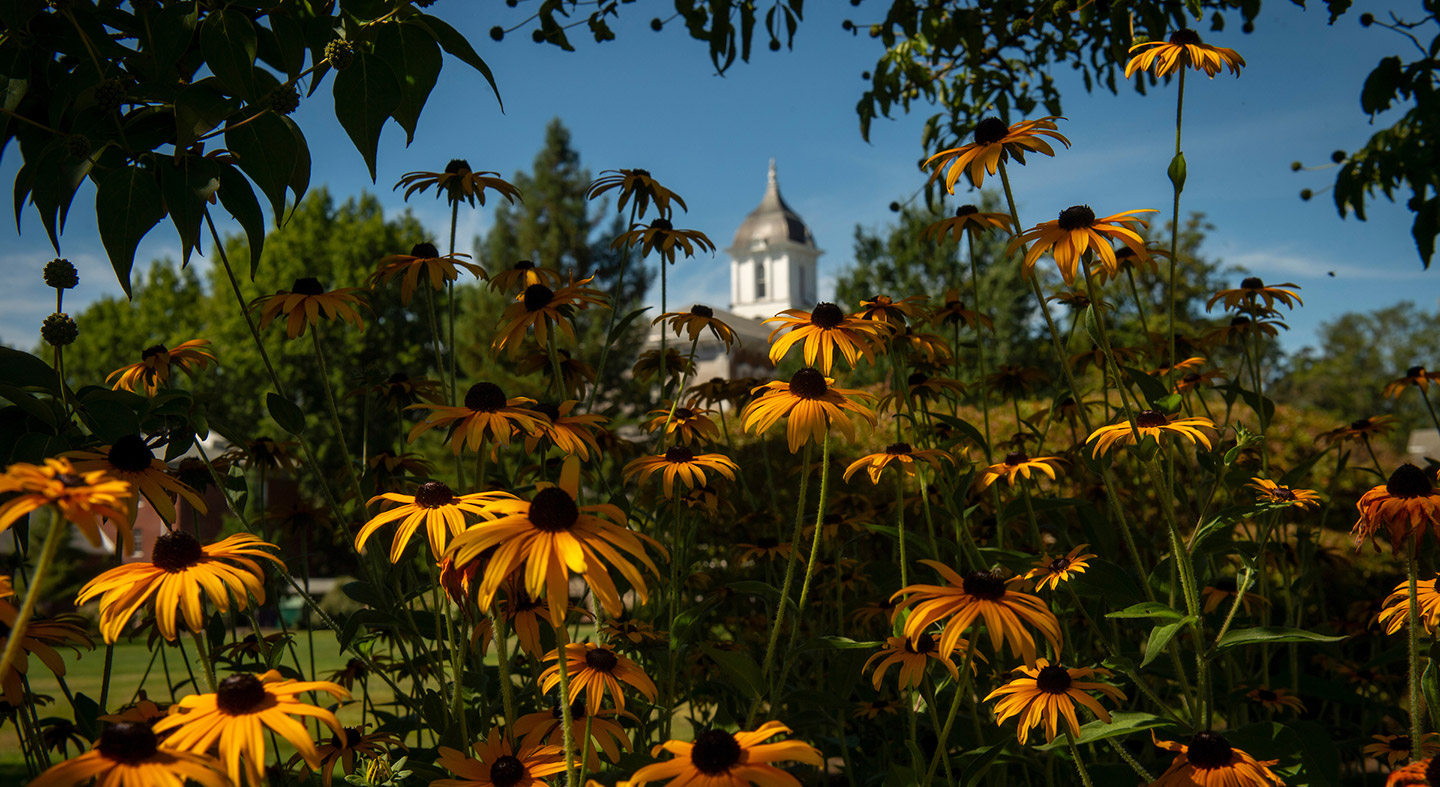 Back to Department
Joan Haaland Paddock
Professor of Music, Conductor and Trumpeter, Director of Instrumental Activities
Vivian Bull Music Center 136
A professional trumpeter, conductor and cultural presenter, Joan Haaland Paddock performs as soloist and collaborative musician with ensembles in Western and Upper Midwest Regions of the US, Mexico, Canada, Japan, and Norway. At Linfield College, Paddock conducts bands, coaches chamber ensembles, and teaches applied trumpet. Additionally, Dr. Paddock has led several January Term Study Abroad courses, including those on-site in the Middle East (Jordan & Israel), Southeast Asia (Bali, Java, Thailand, Singapore, & Malaysia), and Norway, always performing as trumpet soloist and ambassador for Linfield College wherever she travels. Dr. Paddock believes music is for everyone - no one should be excluded from making and enjoying music. In addition to Music Cultures of the World, Dr. Paddock teaches the Inquiry Seminar, "What to Listen for in the World," and "Drumwise," a course that students from across many disciplines benefit. "Drumwise" focuses on evidence-based rhythm and wellness, music and conflict resolution, history and uses of drums in cultural contexts, and development of community through drumming.
Education
B.M.E., M.M., D.M. Performer's Certificate. Indiana University Jacobs School of Music
Fulbright Scholar Norwegian State Academy of Music
Joan Haaland Paddock is Professor of Music and Director of Instrumental Activities at Linfield College in McMinnville, Oregon conducting bands, coaching brass, teaching applied trumpet and music cultures of the world, as well as leading the Inquiry Seminar, "What to Listen for in the World."  A trained HealthRHYTHMS™ facilitator, she also teaches "Drumwise:  Historical, Sociological, Musical, and Wellness Perspectives on Drums, Drummers, and Drumming."
Paddock, originally from Minot, North Dakota, continued trumpet studies with Shigeki Ide in Miyazaki, Japan while abroad with American Field Service (AFS).  Joan Haaland Paddock is the first woman to receive a doctorate in trumpet performance from Indiana University, where she studied trumpet with Charles Gorham and received the conservatory's acclaimed Performer's Certificate. Fulbright scholar to Norway, Paddock studied at the Norwegian State Academy of Music with trumpet soloist, Harry Kvebæk. Paddock received an  Emmy Award from the National Academy of Television Arts and Sciences  for original music written and performed by her for a documentary in 1992.
As a Bach Trumpet Clinician for the Selmer Music Corporation, Joan has performed as soloist with school and community bands throughout the United States. She serves as adjudicator and clinician for band and brass festivals and has guest conducted honor bands in Canada and the USA.  A longstanding member of Oregon's Britt Festival Orchestra trumpet section, she also performs as 'on call' trumpeter with the Oregon Symphony and the Portland Opera.
Dr. Paddock holds memberships in the International Women's Brass Conference, International Trumpet Guild, College Band Directors National Association, Oregon Music Educators Association, Oregon Band Directors Association, and was an honorary inductee into the Northwest Bandmasters Association in 2018.  
Paddock enjoys sounding the LUR (Norwegian Wooden Trumpet) and trumpets for Nordic celebrations abroad and in the USA, including Nordlys Festivalen in Tromsø, Norway, Midsummer Scandinavian Festival in Astoria, Scanfest at Cal Lutheran in Thousand Oaks, and the Norsk Høstfest, North America's largest Scandinavian Festival. 
Academic Interests

Conducting and Performing on All Trumpets and Lur (Nordic Birch Bark Horn)
All Music: Orchestral, Chamber, Choral, Instrumental, New (Contemporary), Folk, etc.
Music History including Music Cultures of the World
Music Education and Basic Musicianship
Music Therapy, Rhythm and Wellness
Music, Empathy and the Brain
Music and Sustainability 
Performances
International Trumpet Soloist: Mexico, Norhern Europe, Japan, Jordan, Israel, Southeast Asia, Canada. Trumpeter with Chestnut Brass, Pioneer Brass, Oregon and Indianapolis Symphonies, Portland Opera, La Camerata Nuove (Washington, DC); Salem and Linfield Chamber Orchestras.  Trumpeter in Music Festivals: Peter Britt, Cascade, Ernest Bloch, Chintimini, (OR), Cabrillo (CA), Norsk Høstfest (ND), and Scanfest (CA)
Emmy Award Winner for original composition and performance for television documentary, "Journey from Death"
Adjudicator/Clinician for solo, ensemble, and band festivals, throughout the United States
Guest Conductor: United States, Mexico, and Canada for honor bands, trumpet ensembles, and brass choirs
Bach Trumpet Clinician for the Selmer Music Instrument Corporation
Publications/Broadcasts
PBS Documentary, National Distribution:  Trumpeter with the Britt Festival Orchestra in the PBS Documentary Symphony for Nature: Performing Michael Gordon's Natural History at Crater Lake National Park, 2017, Teddy Abrams, Conductor
CORTV, Channel. 9, Oaxaca, Mexico - Live interview from Teatro Macedonia Alcalá with trumpet soloist, Joan Haaland Paddock, May 1999
Tel Aviv Broadcasting Company:  Trumpeter with La Camerata Nuove Orchestra and Choir, Handel's Messiah performance at Bethlehem's Church of the Nativity.  Broadcast on PBS, also shown and distributed at Cannes Film Festival, 1995
OPB Oregon Public Broadcasting: Trumpeter with Oregon Symphony in performances of Mahler's Symphony No. 6, 1993, Eduardo Mata, Conductor
OPB Oregon Public Broadcasting: Trumpeter with Oregon Symphony in Performances of Respighi's Pines of Rome, 1992, James DePriest, Conductor
CBA Enterprises, Inc. & Looking Glass Productions of San Diego, CA - Paddock composed and performed original music for the documentaries "Journey from Death" and "Kick the Habit." 1991 and was awarded an Emmy from the National Academy of Television Arts and Sciences for her composition, instrumental, and vocal performance. 
KFMB-Television News, San Diego, CA - Subject of feature trumpet stories, produced by Emmy Award Winner, Ron Johnson, San Diego, CA 1986 & 1982 
Conductor, Concert Band and Brass Ensembles; Teaches Instrumental Conducting, Applied Trumpet, Chamber Music, Brass Methods, World Music, Inquiry Seminar, Drumwise, Coordinator of Instrumental Activities
Lur, Norwegian Wooden Trumpet, Nordic Birch Bark Horn
Nordic Heritage Fun Facts
I have had an audience with HRH (His Royal Highness) King Harald of Norway at the Royal Palace - he was the Crown Prince at the time of our visit. My mother and father were with me, and the audience centered on World War II Veteran, Olaf Haaland, my father, who was a member of the 99th Infantry Battalion Separate, a Special Forces Norwegian American Ski Troup who were the Honor Guard for HRH King Haakon when he returned from exile to Norway after World War II. I have sounded Fanfares on the LUR for H.R.H. (Her Royal Highness) Queen Sonja of Norway at Lillehammer's open air museum, Maihaugen, when she arrived by motorcade to cut the ribbon on her childhood home, which had been moved to this historical museum. As trumpet soloist and chamber musician, I have performed with Halcyon Trio Oregon in the concert hall at Trollhaugen, home of Edvard Grieg near Bergen, Norway. Would you have guessed I am of Norwegian ancestry? Family roots come from both southwest and northern Norway. I also have Irish heritage, and plan a visit to Scotland and Ireland with family soon. I have been to Norway many, many times and I love it there!