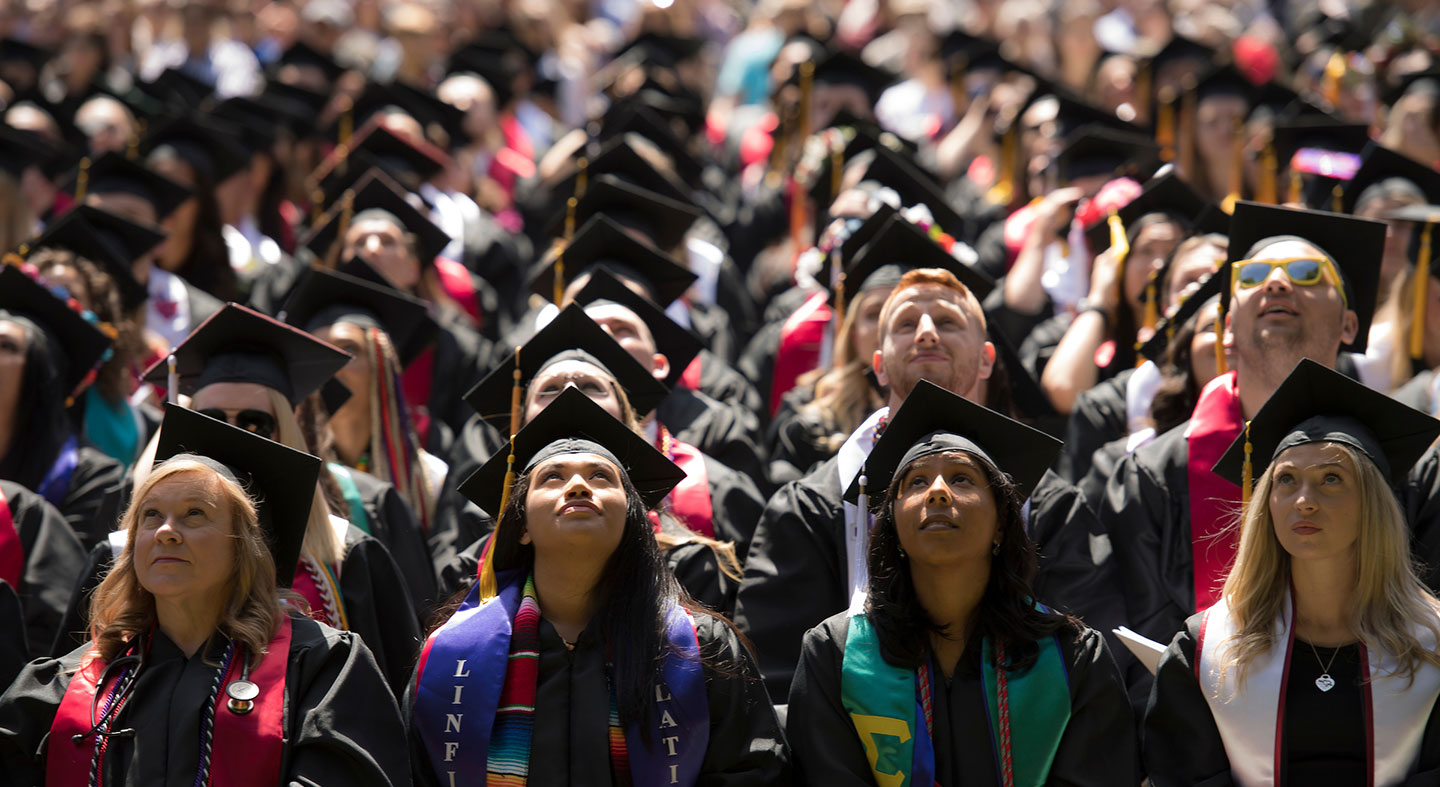 In light of the Governor's orders for the State of Oregon, we will not be able to have an in-person commencement ceremony this spring or summer. However, we will find ways to celebrate the Linfield University Class of 2020. Virtual events and other opportunities will be added to this page as details are made available.
Opportunities for celebrating the Class of 2020
Yard Signs

Linfield Class of 2020 branded yard signs are available for purchase. Visit this website to order a sign for your home. Let those in your neighborhood know you are proud of your Linfield University grad! These signs are available with the Linfield University seal or the Linfield School of Nursing seal.
This weekend's online events and celebrations
Senior Awards Celebration
The senior awards will be presented virtually this year. These will be broadcast using YouTube. You can find a playlist for this event on Saturday, May 30 at 3 p.m. Pacific time. Click here at or after 3 p.m. on Saturday to watch the Senior Awards Celebration.
Grad Finale
An online version of the Grad Finale will take place on Saturday, May 30 at 6 p.m. Pacific time. This is a very brief broadcast featuring toasts by classmates Mary Cait Moriarty '20 and Mihretabe Gizaw '20. There will also be an official welcome to the alumni by Joni Claypool '06, director of constituent engagement, and Dan Koenig '70, chair of the Alumni Leadership Council. Watch the Grad Finale on YouTube Saturday at 6 p.m.
Celebrating the Class
On Sunday, May 31 at noon Pacific time, we will broadcast a celebration of Linfield's Class of 2020. See video footage of campus, listen to remarks from President Miles K. Davis, hear a speech from classmate Grace Bruncke '20,see and hear each graduate's name, and more.  Find the celebration on either YouTube or Facebook. There are two ways to watch:
Nursing Pinning
On Sunday, May 31 at 3 p.m., celebrate the accomplishments of those graduating from the School of Nursing with a virtual pinning ceremony. Hear from Dean Kim Jones, Professor Paul Smith, and more. Find the celebration on either YouTube or Facebook. There are two ways to watch:
Commencement at home
We know many of you are planning to have your own at home celebrations. Celebrate your graduation on social media! Tag @linfieldcollege in your posts and be sure to use the hashtag #Linfield20.
Departmental Celebrations
A number of academic departments are planning virtual celebrations for/with their graduates. We will post details about those events here as we learn about them.
ENVS on Saturday, May 30 at 11 a.m. Contact Professor Nancy Broshot for more information.
History Department on Sunday, May 31 at 11 a.m. Contact Professor Lissa Wadewitz for more information.
Education Department on Tuesday, May 26 at 7:15 p.m via Zoom. Contact Professor Grace Tissell for more information.
Political Science on Sunday, May 31 at 11 a.m. Contact Professor Patrick Cottrell for more information.
Diploma Covers
Ninety-three students came to campus on May 25 to pick up their diploma covers.Others were mailed. If you did not receive yours, please contact Debbie Harmon Ferry at dharmon@linfield.edu or503-883-2607.
Student-Athlete Stole Ceremony
The Stole Ceremony is going virtual as well, this year! Please submit your stole-donning video to Avi Mehta (amehta@linfield.edu) by Wednesday, June 3rd.  Refer to the Stole Ceremony postcard for video instructions and requirements. If you're missing your stole or the postcard that came with it, please contact Jane Samuels (jsamuels@linfield.edu).
Spotify Playlist
Get into the graduation mood with the Linfield University Commencement playlist on Spotify.
Greetings from fellow alumni
Linfield community members from around the world are sending you best wishes this weekend as you join the ranks of Linfield alumni. Check out their messages on our Class of 2020 Kudoboard.