Back to Department
Reshmi Dutt-Ballerstadt
Professor; Director of Critical Ethnic Studies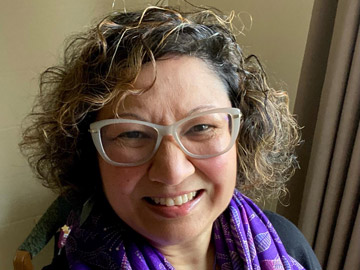 Walker Hall 320
Reshmi Dutt-Ballerstadt received her Ph.D. from University of Minnesota in English, specializing in postcolonial literature and theory. She also holds a M.A. degree in creative writing. Her scholarly and creative works have been published in the Journal of Asian American Renaissance, Jouvert: Journal of Postcolonial Studies, Saranac Review, South Asian Review, Rocky Mountain Review, ARIEL, Academe, Journal of Academic Freedom and others. She is the author of the book, The Postcolonial Citizen: The Intellectual Migrant published in 2010. The book has garnered much attention internationally, and she has been featured in OPB and KABOO.
Dutt-Ballerstadt's teaching and scholarly interests are in the areas of postcolonial literature and theory, Black British literature, critical race theory, US and transnational ethnic and diasporic studies, transnational feminisms, creative writing and their various intersections with race, nation, class, gender and sexuality in both the U.S. and in a global context. As a scholar-activist, she frequently writes and engages about diversity and equity-related issues in higher education impacting marginalized faculty and students.
She is the recipient of the "Edith Green Distinguished Professor Award," and "Marvin and Laurie Henberg International Scholarship Award." She also received the "Outstanding Faculty Award" given for excellence in teaching and mentoring from Linfield's Multicultural Center.
Dutt-Ballerstadt is currently working on two book projects. The first is a monograph titled as 9/11 Literatures: The Anxious Canon. The second project is an edited collection of essays, Civility, Free Speech and Academic Freedom in Higher Education: Faculty on the Margins forthcoming from Routledge in 2020. She is also working on a poetry manuscript titled as Discontinuities that explores themes of migration, home, memory, loss and belonging. As a public intellectual Dutt-Ballerstadt's writings can be read in Inside Higher Ed, Counterpunch, Truthout and in her blog Being Brown and Out/Raged.
In addition to being a faculty at Linfield, Dutt-Ballerstadt also serves as a Delve Seminars guide for Portland's Literary Arts where she has offered seminars on Jhumpa Lahiri and Moshin Mamid, Viet Thanh Nguyen.
Dutt-Ballerstadt also serves as the co-coordinator of the gender studies minor at Linfield.
Education
B.A., College of St. Catherine, St.Paul, MN
M.A., creative writing
Ph.D., University of Minnesota, Twin Cities, MN
Academic interests:
Postcolonial Literature and Theory
Critical Race Theory
Ethnic Studies
Feminist Studies
Creative Writing
Critiques of the Academy
Publications: