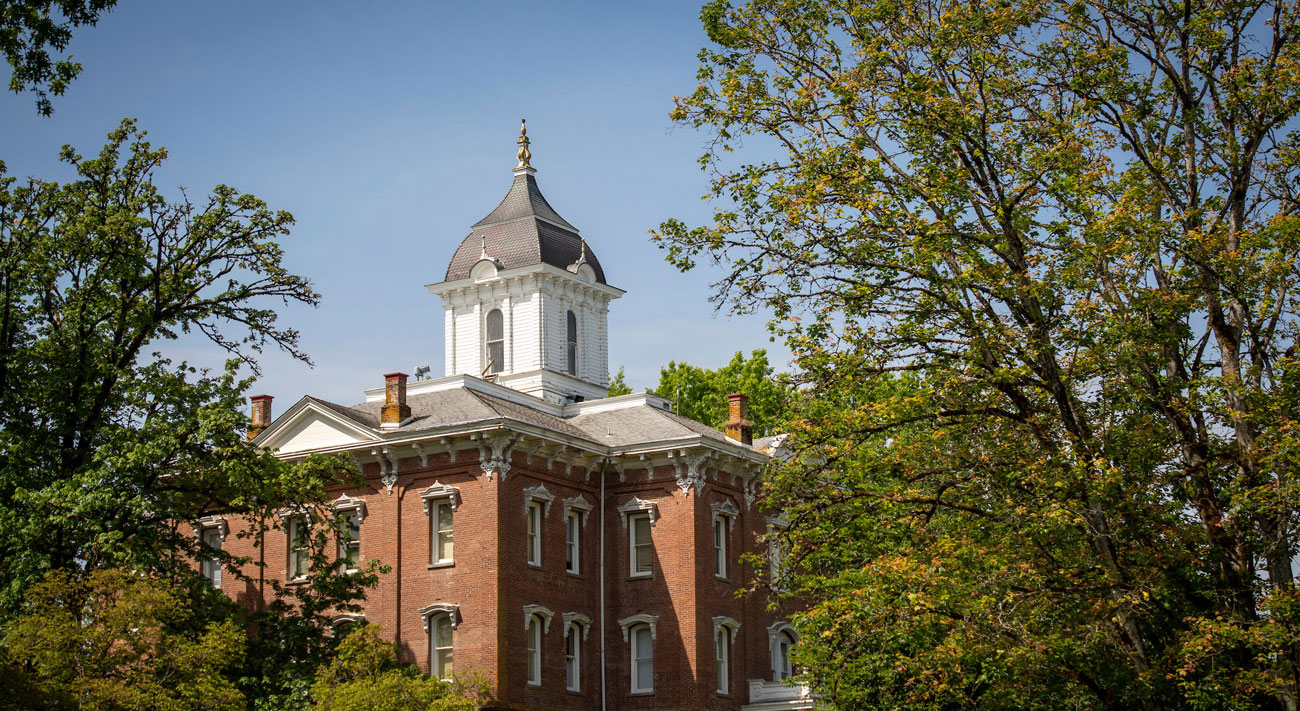 Understanding your Academic Evaluation
The Academic Evaluation, also knows as the degree audit, lists courses according to the Linfield graduation requirements. The information on the Academic Evaluation is explained below in the order in which it appears on the page. This document is available on WebAdvisor under the heading "Academic Profile" and menu item "Program Evaluation."
Program
Every student has an academic program. Most new students enter under the program UG.UNDECIDED. The anticipated completion date is calculated as four calendar years from the first term of classes. Since entering students generally have not declared their major(s), minors(s) or their degree (BA, BS, BSN), these sections are omitted on the initial academic evaluation. As soon as the major and degree are declared, the program will change from UG.UNDECIDED to BA/BS/BSN, the major you have chosen, and the catalog that became active in the fall of your first academic year.
Program Summary
Institutional Credits shows that 30 institutional (Linfield) credits are required and the number you have currently earned. Overall Credits shows that 125 credits are required and the number of credits that you have currenlty earned. This includes any transferable credits we have accepted and any credits you have completed at Linfield. Overall (cumulative) GPA is also listed here. This is calculated using only courses completed at Linfield.
Requirement status on your Academic Evaluation
| Status | Description of Status |
| --- | --- |
| Complete (C) | Requirement or subrequirement is complete with the courses listed. |
| Pending completion of unfinished activity (P) | Remaining parts of the requirement have been pre-registered for or are currently in progress if the term has started. When a course is successfully completed, it will apply toward the completion of the requirement. |
| In Progress (I) | In progress; the requirement is partially but not completely fulfilled. |
| Not Started (N) | Requirement or subrequirement has not been started. |
| Waived (W) | Requirement or subrequirement has been waived. |
Key to abbreviations on your Academic evaluation
Some courses may have these designations after the course number, term, and grade.
| Code | Description of Code |
| --- | --- |
| *AV | Available. Because this subcomponent is extra, all of the courses applied to it are still available for use elsewhere. |
| *E | Extra. Either this course is not needed to complete this requirement or else applying it would not have contributed anything toward the requirement's completion. |
| *F | Forced. We manually applied this course to this requirement. |
| *G | Grade. Course failed the minimum grade requirement. |
| *IP | In Progress. You are taking the course during the current semester/term. |
| *n/a | Not Applied. The course has not been applied to this component of the program. |
| *NE | Non-course Equivalency. For example, the SAT/ACT score completing the math proficiency. |
| *NU | Not used. Because this subcomponent is extra, all of the courses applied to it are still available for use elsewhere. None of the courses are added in to higher level credit subtotals and GPAs. |
| *PR | Pre-registered. You are registered for this course but it has not yet started. |
| *R | Replaced. This instance of the course has been replaced. The highest grade is in the cumulative GPA. |
| *RP | Replacement pending. Course is being repeated. |
| *TE | Transfer Equivalency. |
| *U | Used. The course has already been used elsewhere. |
| *X | Extra. It is not necessary to complete this component of the program. A sufficient number of other components have been completed. |
Bachelor of Arts (BA) or Bachelor of Science (BS) Degree Requirement
This section of the Academic Evaluation will appear after the major is declared.
The BA requires foreign language study. The following majors offer ONLY a BA degree: Communication Arts, Creative Writing, Francophone African Studies, French, French Studies, German, German Studies, History, Intercultural Communication, International Relations, Japanese, Japanese Studies, Latin American/Latino Studies, Literature, Mass Communication, Music, Philosophy, Political Science, Religious Studies, Spanish, Studio Art, Theatre Arts. In all other majors, the student may select either the BA or the BS degree.
The BS requires two courses of at least 3 credits each in a single department from anthropology, biology, chemistry, computer science, economics, environmental studies, mathematics, physics, political science, psychology, or sociology. These courses must be (a) outside the department which offers the major, and (b) beyond the Linfield Curriculum.
Requirements for the Major
Once the major(s) have been declared the requirements appear in this section of the Academic Evaluation. The minimum major GPA for graduation is 2.00; however, some majors require a higher GPA. In the case of more than one major, we list the majors in alphabetical order.
Linfield Curriculum
Our general education requirements consist of 10 subrequirements. Only two courses may be used from any one department. The upper division requirement must be a 300-level course or above and may not be from your major department. If you have two majors, the upper division course may be from one of the majors. Courses accepted in transfer from another institution are listed in the appropriate categories.
Paracurricular & Experiential Learning
Each student is required to take three paracurricular classes, one of which must be a physical education or dance class. All Linfield paracurriculars have course numbers below 100. A total of eight paracurricular credits may be counted in the 125 credits required for graduation and only four of these may be from any one department.

Please note the following subrequirements:
First Year, Transfer, or Online Colloquium – 1 class required.
Physical Education or Dance – 1 class required. Maximum of 4 courses from the same department.
Paracurriculars – 3 courses required. Maximum of 8 credits counted toward the 125 credits required for graduation. No more than 4 courses can be from the same department.
Additional Majors and/or Minors appear next
The format is similar to the first major listed above.
Other Courses
Courses used as elective credit are listed as other courses. Some of these courses may apply to a major or minor, when declared.