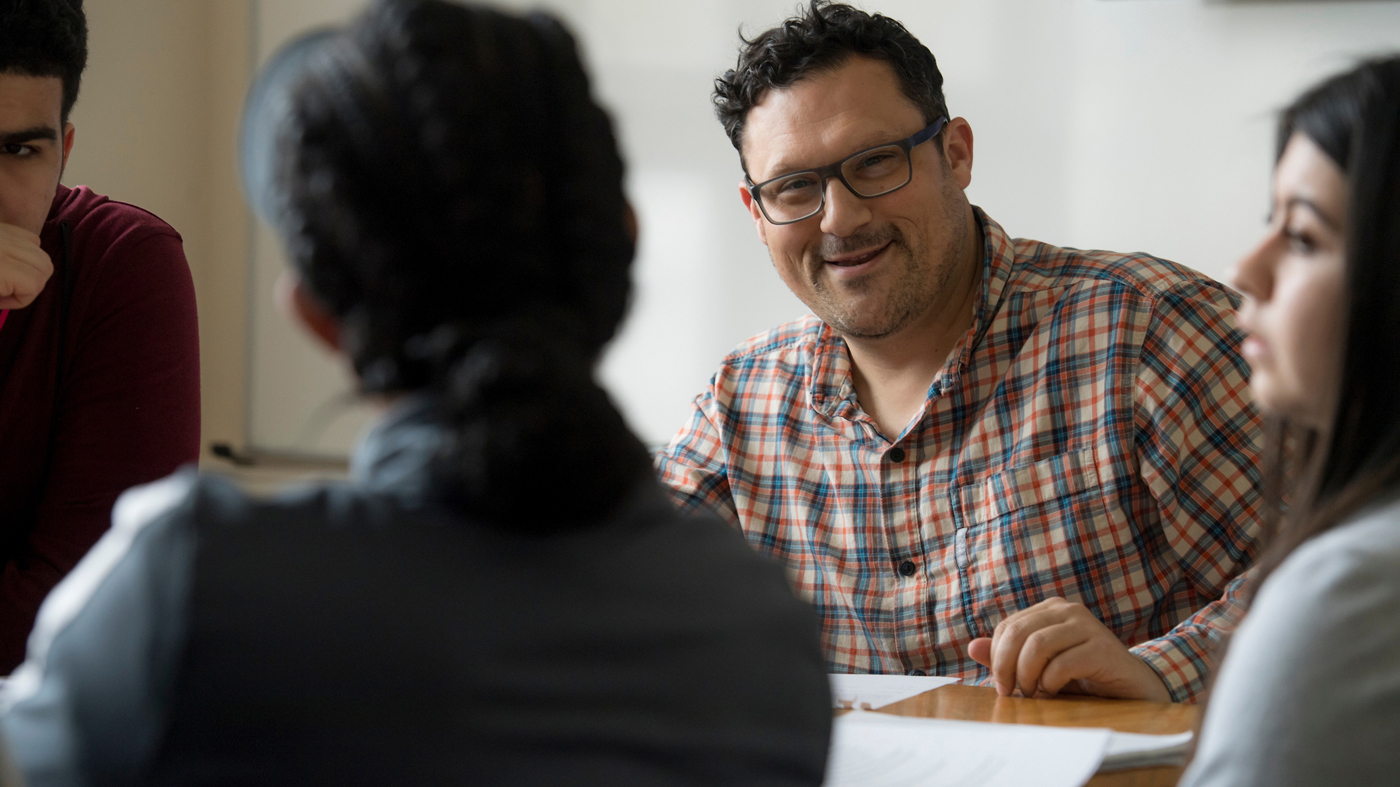 Political Science Faculty
Nick Buccola - Elizabeth & Morris Glicksman Chair in Political Science / Founding Director, Frederick Douglass Forum on Law, Rights, and Justice
Walker 125
503-883-2246

nbuccol@linfield.edu
Education:
B.A., B.S. Santa Clara University; M.A., Ph.D. University of Southern California
Professor Nick Buccola joined the Linfield faculty in 2007. His teaching and research interests are in Political Theory and Public Law. His first book, "The Political Thought of Frederick Douglass," was published by New York University Press and was a finalist for the Oregon Book Award. His second book, "The Essential Douglass," was published by Hackett Publishing Company in March 2016. His third book, "Abraham Lincoln and Liberal Democracy," was published in the distinguished American Political Thought series of the University Press of Kansas in March 2016. His scholarly essays have been published in a wide range of journals including The Review of Politics and The Journal of American Political Thought. His reviews and op-eds have been featured in a wide variety of publications including The New York Times, Salon, the Claremont Review of Books, and Dissent. Professor Buccola is a recipient of the Allen and Pat Kelley Faculty Scholar Award, a two-time recipient of the Samuel Graf Faculty Achievement Award, and a National Endowment of the Humanities Enduring Questions grant. His most recent book, "The Fire Is Upon Us: James Baldwin, William F. Buckley Jr., and the Debate over Race in America," was published by Princeton University Press and has been named a New York Times Editors' Choice and is a finalist for the Benjamin Hooks National Book Award.
Professor Buccola's Web Page
Patrick Cottrell - Professor of Political Science, Chair of Department of Political Science, Lacroute Scholar, Coordinator of International Relations minor, Co-Coordinator of Leadership and Ethics Across Disciplines (LEAD) minor
Walker 128
503-883-2477 (email pref

pcottre@linfield.edu
Education:
B.A. University of California-Davis; M.A. Johns Hopkins School of Advanced International Studies; Ph.D. University of Wisconsin-Madison
M. Patrick Cottrell is Professor and Chair of the Political Science Department at Linfield College in McMinnville, OR. His research and teaching interests include global governance and international institutions, American foreign policy, international security, leadership, political change, and the politics of international sport.
Patrick is the author of two books: Legitimacy and the Evolution of International Security Institutions with Cambridge University Press (2016) and The League of Nations: Enduring Legacies of the First Experiment at World Organization with the Routledge Global Institutions Series (2018). He has also published articles in a range of peer-reviewed articles in journals including International Organization, the European Journal of International Relations, and the Review of International Studies.
Patrick is the recipient of the Kelley Award for outstanding scholarly achievement (2009), the Henberg Award for International Scholarship (2013 and 2018), and the Graf Faculty Achievement Award (2014) for outstanding contribution to the life of the college. He also received a Freeman Foundation/ASIANetwork grant in 2012 to conduct collaborative research with students on the governance of refugee affairs along the Thai-Burmese border.
Prior to pursuing his doctorate at Wisconsin, Patrick worked at the U.S. Department of State in the Bureaus of Political-Military Affairs and Nonproliferation. During his government service, he also completed detail assignments as a Presidential Management Fellow on the State Department's Policy Planning Staff, the Senate Foreign Relations Committee, and in the U.S. Consulate in Hong Kong.
Learn more about Professor Cottrell
Shaik Ismail - Director of International Programs; Associate Professor of Political Science
Walker 123
503-883-2228

sismail@linfield.edu
Education: B.A. Beloit College; M.P.A., Ph.D. The American University
Dr. Shaik Ismail is the Director of International Programs at Linfield College, where he oversees international initiatives on the McMinnville and Portland campuses and at 31 locations abroad. A member of the Linfield faculty since 2003, he also teaches in the Department of Political Science. Dr. Ismail previously served as the assistant vice president for International Programs and dean of Continuing Education and Special Programs at Chatham College in Pittsburgh, Pa. Prior to that appointment, he served as associate dean of the Washington Semester Program and the World Capitals Program at the American University in Washington, D.C. The programs drew 800 undergraduates from across the nation for intensive study of public policy and served 450 students each year with study abroad programs. Dr. Ismail has also served as a consultant to the State Department and the National Institute of Education, and previously taught courses at the American University and Cornell University.
Dimitri Kelly - Associate Professor of Political Science
Walker 129
503-883-2330

dikelly@linfield.edu
Education: B.A. University of California, Davis; M.A., Ph.D. University of Wisconsin, Madison
Professor Dimitri Kelly joined the Linfield faculty in 2013. His academic interests lie in American politics with a focus on political behavior, media and politics, political psychology, and elections. Dr. Kelly has received funding from the National Science Foundation for his ongoing research exploring cognitive responses to biased news and the effects of partisan news media on political polarization. More generally, his research agenda focuses on citizens connection to politics, with emphasis on the intermediary role of the media, and the public distribution of political information, the decision to participate in politics, and the degree of ideological constraint and polarization in society. He is passionate about teaching and is currently planning new courses in Political Communication, The American Presidency, and Politics and Inequality, as well as a January Term travel course to Brazil.
Learn more about Professor Kelly
Dawn Nowacki - Professor
Walker 127
503-883-2276

dnowacki@linfield.edu
Education:
B.A., M.A. University of Washington; Ph.D. Emory University
Dr. Dawn Nowacki has been teaching at Linfield since 1994. She received her bachelor's degree in Russian language and area studies, as well as her master's in International Communication from the University of Washington. After working for Radio Free Europe/Radio Liberty in the Soviet Area Audience Research department, she attended Emory University and received her Ph.D in Political Science. Her professional interests pertain to women in politics in comparative perspective; the government and politics of Russia; the politics of nationalism and religion, and gender in International Relations. During her career, Dr. Nowacki has received several honors, including a Fulbright Teaching Fellowship for Russia in 2001, and the Elizabeth and Morris Glicksman Chair in Political Science at Linfield. Her academic work includes articles on ethnic politics in former Soviet Republics, women and leadership in post-Soviet states, and a book chapter on the post-Soviet political representation of women in Russian regional legislative assemblies. She has conducted numerous collaborative research projects with undergraduate students on women and politics in various world regions.
Learn more about Professor Nowacki