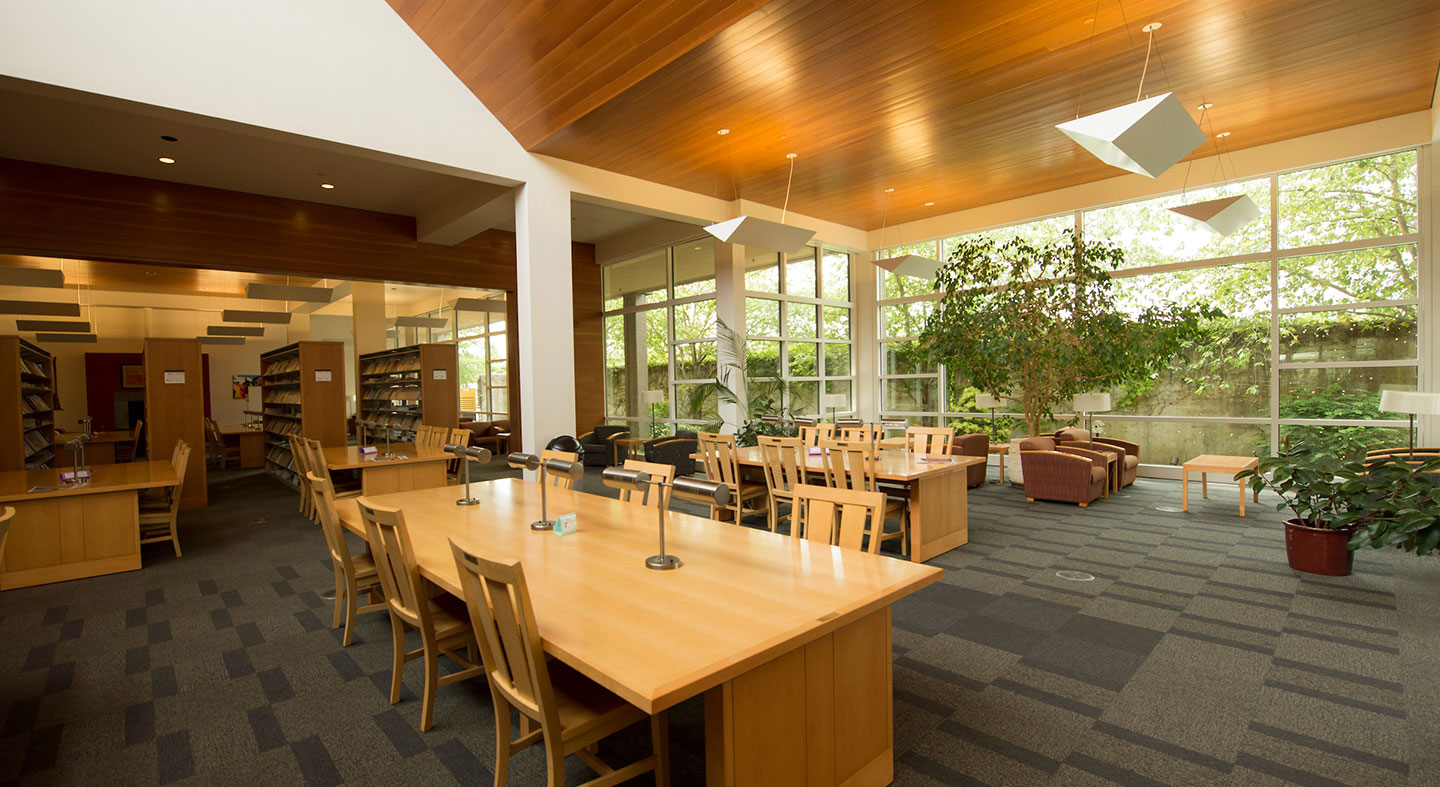 Linfield Libraries Search
Locate books, e-books, articles, videos and more that you can view online, find at Linfield University or request from libraries regionally and worldwide. Limit to academic materials using scopes and filters.
Here are a few features:
Use the dropdown scopes to search particular sets of Library Resources as noted below:

Linfield + Summit + Articles - books, videos, and other physical materials from Linfield and other Summit (37 regional) academic libraries, e-books, and articles from subscribed and freely available journals worldwide; includes some data sets, academic websites, and general websites. Use side links to limit by format (books) and other facets. Request Summit items, with delivery in about 3-5 days.
Linfield  + Summit - includes Linfield Libraries

physical collections (books, DVDs, etc.),

e-books, and Summit.
Linfield Libraries - find books, videos, and other physical materials available at Linfield (inside the Portland or McMinnville campus libraries).
Articles - limits search to articles from subscribed and freely available journals worldwide.
Ebsco - focuses on articles from multiple Ebsco databases. You can also search Ebsco and other databases individually via the Research Databases link on the left sidebar of the Libraries pages.
Tool Bar
New Search - start your search again.
Journals Search - alphabetical access to electronic journals; print journals not included. Both electronic and print journals in our collection can also be found by searching by journal title in Linfield Libraries Search.
Databases- search individual disciplinary research databases; organized by discipline and alphabetically.
WorldCat- find materials worldwide beyond Summit, including from public libraries and other regional collections outside the Pacific Northwest. (Delivery on WorldCat requested items is longer than Summit, about 3-10 days.)
Tags - use tags created by others to provide another way to gather materials by subject. If signed in, you can create your own tags at the bottom of a full record. 
Browse - works well for finding books using subject headings (e.g., Viticulture -- Oregon) or by Library of Congress Classification numbers (e.g.,

SB387.76.O7 O74

).
Chat Help - get answers online either via live chat, staff contact information, or links to a variety of tips and FAQs.
Search History - allows you to view and

re-run previous

saved searches.
Favorites Pin - create a list of resources for later use.
Sign in with

your

CatNet ID for best results. 

maximize search results - some resources will not show unless you are signed in
view more options for requesting resources from other libraries
access your library account and renew resources
save favorite resources to view later
Search Results and Filters

Brief Record - shows up with other resources in the search by default.
Available/Full Text Available/Online Access (Green) - books, videos, etc. at Linfield Libraries, plus full-text articles and e-books.
Summit (Yellow) - Summit items that can be requested; sign in with CatNet ID to get request options.
Request Article (Gray) - usually includes articles that we do not have but that are requestable via Interlibrary Loan. Delivery time varies from within an hour to usually within 1-2 days.
Modify results - use the filters under "Modify results" to refine results. Once activated, you can remove filters to try a different search, or add more.
Linfield books, DVDs, and other physical materials are shelved according to Library of Congress classification. Use the call number (e.g., QL737.C4 E25) from the catalog record to find the material on the shelf.
Full Record - click on Title to find more information about the resource:
Get It (for physical items) or View It (for online items) provide access links or information to get items.
The Details section provides more information about the item.
Tips for Searching
Linfield Libraries Search includes lots of online search help. Here are some hints for specific kinds of searching:
Use quotes around known titles for best results, just as in a Google search (for instance, "The World Is Flat"). Add author last name in search box to limit further.
Limit by facets - after search, notice the facets/filters along the right side. Limit results by format (books), subject (viticulture), language (French), etc.
Advanced Search - includes more options, such as using keywords in title, subject, author, or limiting by material type. (Remember to use quotes around exact titles, even in Advanced Search title mode.)
Browse Search - works well for finding books using subject headings (Viticulture -- Oregon) or by Library of Congress Classification numbers (ex.

SB387.76.O7 O74

).
Sign in with CatNet ID first for best results. Some features (including the Pin icon, My Account, etc.) require sign-in. Certain databases also require login in order to be included in the results list (e.g., Web of Science, MLA). The Ebsco scope requires login if you are off campus.
My Account - tracks your checkouts and allows renewals (requires sign-in).
Use Favorites Pin - as you search, click stars for the titles you want to track or revisit. They will show up in the Pin icon each session, but sign-in is required to preserve these for future searching.
Other Resources
Find these from the Linfield Libraries main page:
Research Databases - search dozens of multidisciplinary and subject-specific periodical databases, organized by subject and alphabetically. Note: If you are trying to access article databases from off campus, you will need to log in with your CatNet ID and password.
Vendor collections - databases in these collections can be searched together or separately. Many - but not all - of these databases are already searchable as part of Linfield Libraries Search.

Journal Search - lists all newspapers, magazines, and journals accessible online via Linfield University; print periodicals not included. You can also find any newspaper, magazine, or journal title online or in print by searching Linfield Libraries Search.
Google and Google Scholar are a great starting point for many searches but may lead to pages asking you to pay

$$$

for articles. Don't pay! Locate books and articles via Linfield Libraries Search. You can also try finding articles by journal title via Journal Search, or simply request them directly via Interlibrary Loan.

Learn how to use Google Scholar to link Linfield content to your browser. (PDF) (screencast)
Online Encyclopedias - search for background information from dozens of online encyclopedias, dictionaries, handbooks, and other resources. Organized by subject and alphabetically.
Library Class Pages - organized by course number and semester.
Find course-specific research help with resources tailored to your class assignments. These pages usually accompany a library instruction session with your professor and a librarian. But, if you find a class that meets your general subject needs, you may be able to use it to get started with your research as well.
Find the list of library class pages from the left sidebar of the Linfield Libraries main page.
Interlibrary Loan - access to books, DVDs, and other physical materials, as well as articles, from libraries worldwide. First-time users must complete a short registration form.
Before requesting known materials, see if we already have them locally:
Evaluate Web and Print Resources
Citing Sources and Avoiding Plagiarism
Questions of any kind?
Contact a Reference and Research Librarian. OCE students, please contact the Visiting Teaching and Online Learning Librarian, Brandon Wilkinson (503-883-2715; bwilkins@linfield.edu).