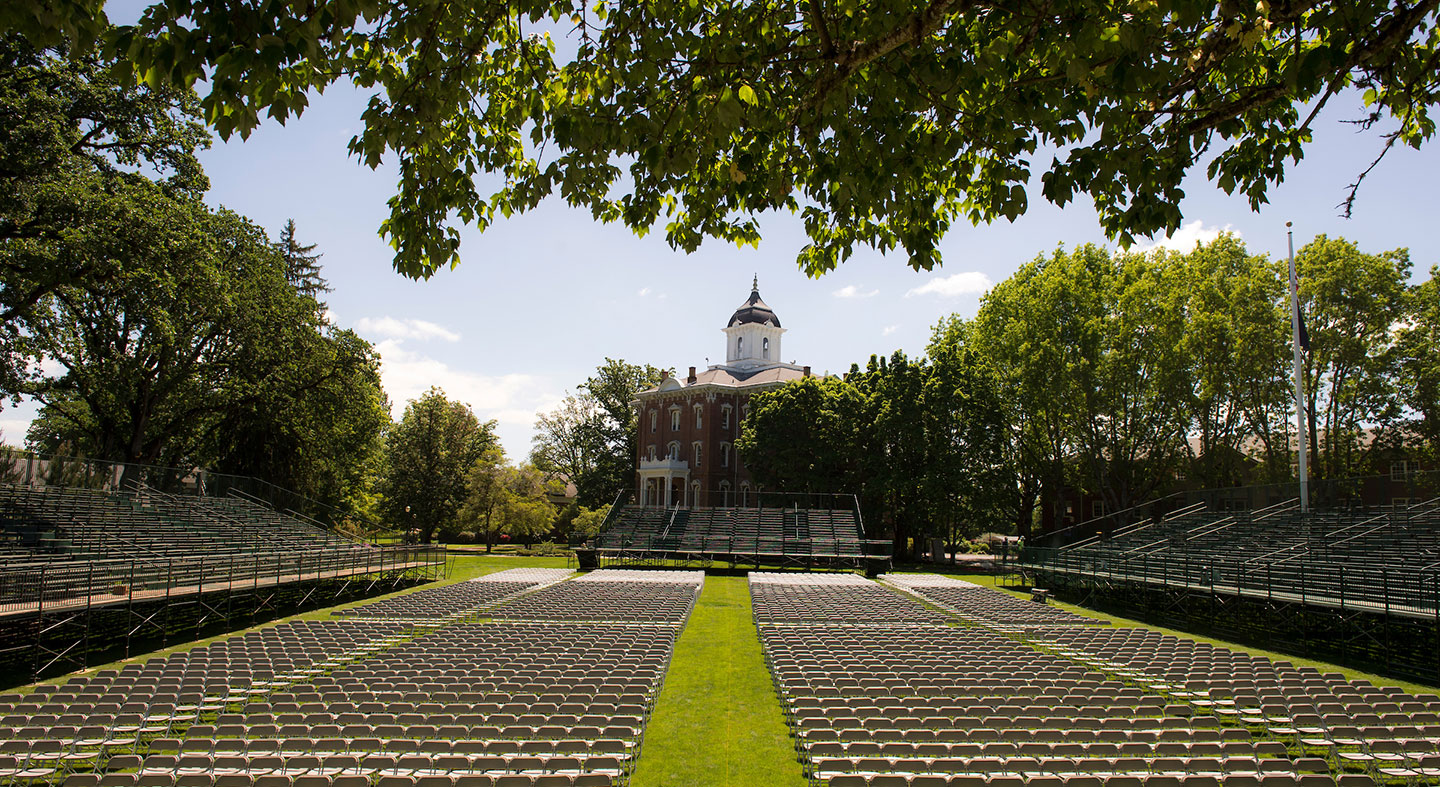 Steve Bagwell - Adjunct Professor
Renshaw 203


sbagwell@linfield.edu
Education:
M.A., Journalism, University of Oregon
B.A., History, Stanford University
Steve Bagwell is the editorial page editor for the Yamhill Valley News-Register. Previously, he worked for the Statesman-Journal (Salem), The Idaho Statesman (Boise), and The Bulletin (Bend). Steve has held leadership posts in several professional groups and won numerous professional awards, including a Ruhl Fellowship, two Blethen awards and a Pulitzer Prize nomination.
Kevin E. Curry - Assistant Professor
Renshaw 212
503-883-2271

kcurry@linfield.edu
Education:
Ph.D., Public Affairs and Policy, Portland State University, Hatfield School of Government
M.A., Communication, University of Washington
B.A., Mass Communication and Political Science, Linfield College
Dr. Kevin E. Curry is an assistant professor of Journalism and Media Studies at Linfield University. He teaches courses on video and audio production, media law, social media, and media writing. He is also the faculty advisor for two student media groups, Wildcat Produtions and Wildcat Radio. Dr. Curry is interested in how the media intersects with areas like politics and government, how it influences our decision-making, and the history and development of the mass media in the United States. He was a producer of the documentary film The Gentleman of the Senate: Oregon's Mark Hatfield, which aired in 2015 on Oregon Public Broadcasting. He has a Ph.D. in Public Affairs and Policy from The Hatfield School of Government at Portland State University, a Master of Arts degree in Communication from the University of Washington, and Bachelor of Arts degrees in Mass Communication and Political Science from Linfield.
Learn more about Professor Curry
Emily Diesburg Grosvenor - Adjunct Professor
Renshaw 203


ediesburg@linfield.edu
Education: BA in German, The Pennsylvania State University MA in Journalism, The University of Iowa Fulbright Scholar to Germany, 2001-2003 Former President of the Oregon Chapter of the Fulbright Association
Emily Grosvenor is Editor of Oregon Home magazine. As an award-winning reporter and essayist, Emily has written about winning the Live-Action version of Oregon Trail, living with a toddler who has an Oedipus complex, and what it is like to be a super sniffer living in the fragrant American West. Her passion for capturing place, for sketching scenes, for discovering people, and for always finding the meaning of being a stranger in a strange land, has led her to frequent work for publications like The Atlantic, Sunset, AAA Via, Portland Monthly, Salon.com, Design*Sponge, Good Housekeeping and Publishers Weekly. Most recently, she edited the Oregon Wine Board's first-ever wine touring guide. An evangelist for the power of the sense of smell, she lives in McMinnville, OR, where she writes the Tiny Travels column.
Michael Huntsberger - Associate Professor Emeritus
Renshaw 205
503-883-2521

mhuntsb@linfield.edu
Education:
Ph.D., Communication and Society, University of Oregon School of Journalism and Communication B.A., Music Technology emphasis, The Evergreen State College
Download Professor's Curriculum Vitae
Prof. Huntsberger has worked as a manager, producer, engineer, and consultant in commercial, educational, public, and community media since 1980. He is the author of The emergence of community radio in the United States: A historical examination of the National Federation of Community Broadcasters; book chapters in Community Radio in the 21st Century, the Palgrave Handbook of Global Radio, Digital Radio in Europe – Technologies, Industries & Cultures, and The Public in Public Media; articles in the Journal of Radio & Audio Media, Mass Communication Quarterly, Interactions – Studies in Communication and Culture, Southern Review, Journalism and Mass Communication Educator, the Journal of Media Education, the Journal of Mass Media Ethics, and the Encyclopedia of Journalism (Sage 2nd ed.); and online content for the Public Radio News Directors Guide. His research focuses on public service media, media policy, and technology. He is the producer of the interactive multimedia documentary Waiting for Peace: The Journals and Correspondence of a World War II Combat Medic . He has taught courses in media history, media ethics, electronic media writing, audio production, video production, interactive multimedia production, radio production and programming, sports media, and media in Europe. In addition, he has taught the introductory colloquium, inquiry seminar, and Journalism & Media Studies capstone courses. Prof. Huntsberger is the former chair of the Radio & Audio Media division of the Broadcast Education Association.
Learn more about Professor Huntsberger
Devon Lyon - Adjunct Professor
Renshaw Hall
503-883-2219

dlyon@linfield.edu
Jennifer Rauch - Visiting Professor
Renshaw Hall 203
503-883-2521

jrauch2@linfield.edu
Education:
Ph.D., Mass Communication, Indiana University Blomington
Master of Journalism, Temple University
B.A., Mass Communication and French, Pennsylvania State University
Jennifer Rauch teaches news writing and journalism practices. Her research on alternative media, news audiences, ritual communication, media absention, and zines has been widely published. Her book Slow Media: Why Slow is Satisfying, Sustainable and Smart (Oxford University Press) was honored with a Silver Nautilus Book Award. Her new book Resisting the News: Engaged Audiences, Alternative Media and Popular Critique of Journalism, is forthcoming from Routledge. Rauch has served as a judge for the George Polk Awards in Journalism for more than a decade.
Professor Rauch's Web Page
Lisa M. Weidman - Associate Professor & Department Chair
Renshaw 102A
503-883-2219

lweidma@linfield.edu
Education:
Ph.D., Mass Communications, Syracuse University M.S., Media Administration, Syracuse University B.A., English/Writing Sequence, University of California at Davis
Professor Weidman teaches courses in public relations, advertising, social media and media theory. She also teaches the Career Preparation and Senior Capstone courses, and occasionally a media writing course. She is the internship coordinator for the department. Dr. Weidman's research explores issues of fairness, equality, social justice and identity in media representations. Among her interests are sports communication and environmental communication. Prior to joining the Linfield faculty, she was the Director of Client Services at a strategic communications agency serving a wide variety of businesses, most of them based in western Oregon. She previously taught at the University of Georgia and at Temple University in Philadelphia. Before graduate school, she was a newspaper journalist and later the advertising manager at Thrasher magazine.
Learn more about Professor Weidman