Back to Department
Thea Gahr
Linfield Art Gallery Curator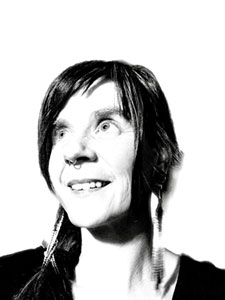 Miller Fine Arts Center 125
Thea Gahr is a bilingual artist, printmaker, educator, curator, and community culture-maker. Committed to the health and balance of the land she works to create a catalyst for positive social and environmental change. As a longtime member of Justseeds Artists' Cooperative, a decentralized collective of artists in the greater America and ECPM 68 an autonomous school in Mexico City, she is dedicated to the brilliant and difficult experiment of working collectively and collaboratively. Her relief prints, paintings, and mixed media show the energy of the marks and speak to the emotional body, inviting more expansive intelligence that may inspire change for our collective well-being.
She is an adjunct instructor at Linfield University teaching since 2012; drawing, painting and printmaking, and is the gallery curator of the Linfield Gallery. Her work spans the borders of Mexico, Haiti and the U.S. She grew up in a large multi-lingual farming family in the coastal foothills of Oregon, which has greatly informed her work.
Among other things she is a long-distance cyclist, aerialist, stitcher, amateur builder, gardener, traveler, and is interested in land restoration.