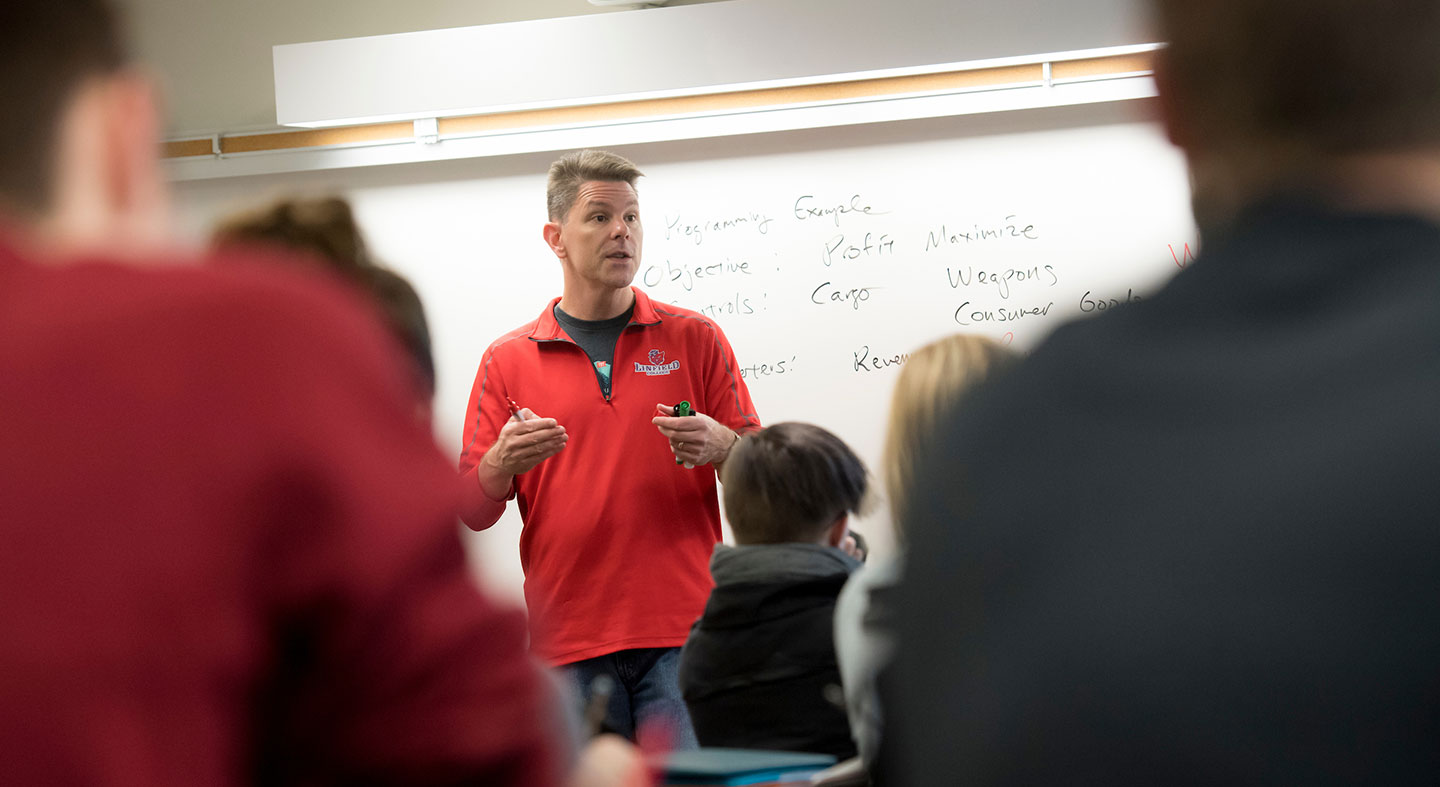 Meet our faculty
Economics Faculty
Randy R Grant - Professor of Economics
TJ Day 307
503-883-2402

rgrant@linfield.edu
Education: B.A. Pacific Lutheran University; Ph.D. University of Nebraska-Lincoln
Professor Grant began teaching at Linfield in 1993. The Kent, Wash. native was originally a business major with aspirations of owning a business, but decided to pursue economics instead after taking his first class in the subject. He has been named both Edith Green Distinguished Professor and the Greek Letter Organizations Professor of the Year, and is particularly interested in the economics of college and professional sports, macroeconomic theory and policy, and the economics of Australian aborigines. Professor Grant has co-written several books, including "The Economics of Intercollegiate Sports" and "The Evolution of Economic Thought." He currently teaches sports economics, macroeconomics, history of economic thought, and the January Term course in Environmental Studies (Aboriginal/Environmental Economics in Australia).
Learn more about Professor Grant
Eric Schuck - Professor
TJ Day 304
503-883-2385

eschuck@linfield.edu
Education: B.A. Pacific Lutheran University; M.A. University of Montana; Ph.D. Washington State University
Dr. Eric Schuck began teaching at Linfield in 2006. He has been an agricultural economist for over 20 years now, and is primarily interested in studying natural resource, environmental, and agricultural economics, with an emphasis on water use during droughts and controlling agricultural runoff. As part of his research, Dr. Schuck has extensive international experience, including Fulbrights to South Africa and Lebanon, and he has led study-abroad courses to South Africa, France, Samoa, and French Polynesia. Besides teaching, Dr. Schuck also serves as a Commander in the United States Naval Reserve. He has deployed to the Middle East twice and is a graduate of the Naval War College. Learn more about Professor Schuck in this interview.
Learn more about Professor Schuck
Jeffrey Summers - Professor of Economics (Chair)
TJ Day 305
503-883-2297

jsummer@linfield.edu
Education: B.A. Wabash College; M.S. University of Oregon; Ph.D. Purdue University
Professor Jeffrey Summers has been teaching courses related to public policy and international economic issues in the Department of Economics since 1992. During his time at Linfield, Dr. Summers has served as Associate Dean of Faculty and as chair of the college's curriculum committee. He previously served as an economic development planner in Indiana and has been a reviewer for the American Educational Research Association and the Association for the Study of Higher Education. Many of Dr. Summers's publications and presentations focus on tuition and enrollment yields in higher education, the privatization of public higher education, comparative economic systems and international trade policy. Additionally, he has studied the balance between instruction and administrative expenditures in higher education.
Brittany Teahan - Associate Professor
TJ Day Hall 303
503-883-2253

bteahan@linfield.edu
Education: B.S. in Economics, Fairfield University; M.S. in Economics, Iowa State University; Ph.D. in Economics, Purdue University
Dr. Brittany Teahan began teaching at Linfield in 2014. In summer 2016, she worked on a collaborative research project with a senior economics major to assess student learning in principles of economics. Dr. Teahan has organized events to bring alumni back to campus to talk with current students about how Linfield prepared them for their careers. She currently teaches courses in labor economics, experimental economics and behavioral economics.