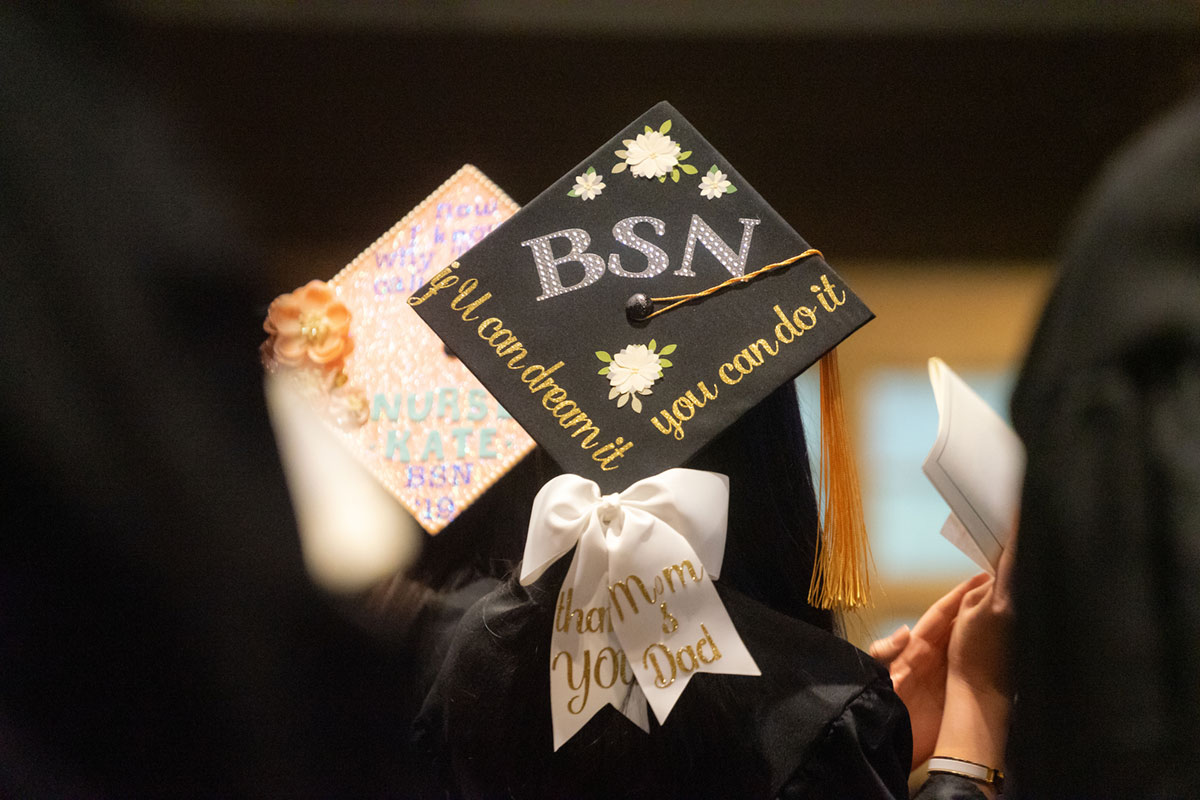 BSN admission and application requirements
Admission and application requirements for our prelicensure Bachelor of Science in Nursing (BSN)
This is information for students seeking admission to our two-year prelicensure BSN.
In this program, you will complete all of your major courses in the School of Nursing on our Portland campus. As Linfield maintains a strong commitment to developing nurse leaders, admission to this program is highly competitive. We always complete a holistic review of each application.
Admission requirements:
Applicants must fulfill Linfield's GPA and prerequisite course requirements
Applicants who do not already hold a bachelor's degree must have 62 semester or 93 quarter credits completed before enrolling in the nursing program. (Applicants may be admitted prior to finishing the minimum credit requirements if they will be complete prior to entering the nursing program.)
Application requirements:
Submit a completed application through NursingCAS. You are required to include one reference with contact information in your application.
Ensure all official transcripts are received by NursingCAS by the application deadline.
Students with international credentials will need to submit a translated credential evaluation (from one of these agencies) with their admission application.
If you require technical assistance with your application through NursingCAS, please contact:
NursingCAS Customer Service
nursingcasinfo@nursingcas.org 
617-612-2880
Monday-Friday, 6 a.m. to 2 p.m., Pacific Time
Application instructions for Linfield's current McMinnville campus students:
Application for current McMinnville students is available November 15 through January 2, 8:59 p.m.
For information about eligibility and prerequisite coursework, visit pre-nursing advising.
Please ensure you've submitted a complete Declaration of Academic Program form indicating you are a pre-nursing student to the Academic Advising office in Melrose 010.
Your submission of the form will add you to the "pre-nursing students" listserv. You will receive application updates at your Linfield email.
BSN transfer credit requirements
If you are transferring, you must have 62-semester credits (93 quarter credits) of transferable coursework complete before beginning our program. Courses may be completed at any regionally accredited community college or university. Official evaluation of all transfer credit will be made after admission into our program.
Please be aware that, generally, professional/technical courses will not transfer. Repeated courses (that is, courses with the same content) will only transfer once.
Linfield Curriculum (general education):
Our general education requirements, known as the Linfield Curriculum, must be completed to receive your first bachelor's degree at Linfield. These may be completed during the nursing program, but it is recommended that the majority of these courses be completed before enrollment.
Nursing prerequisite courses will satisfy some of the general education requirements, except for five areas. These generally require an additional three semester-credit or four quarter-credit course:
Creative Studies (CS)
Ultimate Questions (UQ)
Vital Past (VP)
U.S. Pluralisms (US)
Global Pluralisms (GP)
Application calendar for BSN program
If you have completed the nursing prerequisites and are ready to begin your nursing coursework on the Portland campus, the following calendar dates are for you.
If you need to complete all or some of your prerequisite coursework and wish to do so at Linfield, you should apply to the McMinnville campus. You can review the McMinnville campus admission requirements and deadlines.
Our Accelerated BSN has a summer start. See ABSN application information and deadlines.
Spring start
August 1:
Application deadline for all spring students
Applications must be complete with all transcripts verified by NursingCAS and recommendations received
McMinnville Campus students who have declared pre-nursing as their major will receive application instructions by email
October 1:
Admission notifications released through Linfield's application portal
This date is subject to change
November 1:
Nursing candidate matriculation (enrollment fee) deadline
January 10:
All nursing prerequisites and minimum 62-semester credits (93 quarter credits) of transferable coursework complete
Final official transcripts showing completion of all prerequisites and 62 transferrable semester credits must be received by NursingCAS.
Complio (compliance and immunization management) medical documentation, background check and drug screen complete and verified; no exceptions
Fall start
January 2:
Application deadline for McMinnville Campus pre-nursing students
Applications must be submitted by 8:59 p.m. Pacific Time; no exceptions
February 1:
Application deadline for transfer students from other institutions
Applications must be complete with all transcripts verified by NursingCAS and recommendations received
February 15:
Preferred deadline to submit FAFSA®
April 1:
Admission notifications released through Linfield's application portal
May 1:
Nursing candidate matriculation (enrollment fee) deadline
July 10:
All nursing prerequisites and minimum 62-semester credits (93 quarter credits) of transferable coursework complete
Final official transcripts showing completion of all prerequisites and 62 transferrable semester credits must be received by NursingCAS
Complio (compliance and immunization management) medical documentation, background check and drug screen complete and verified; no exceptions