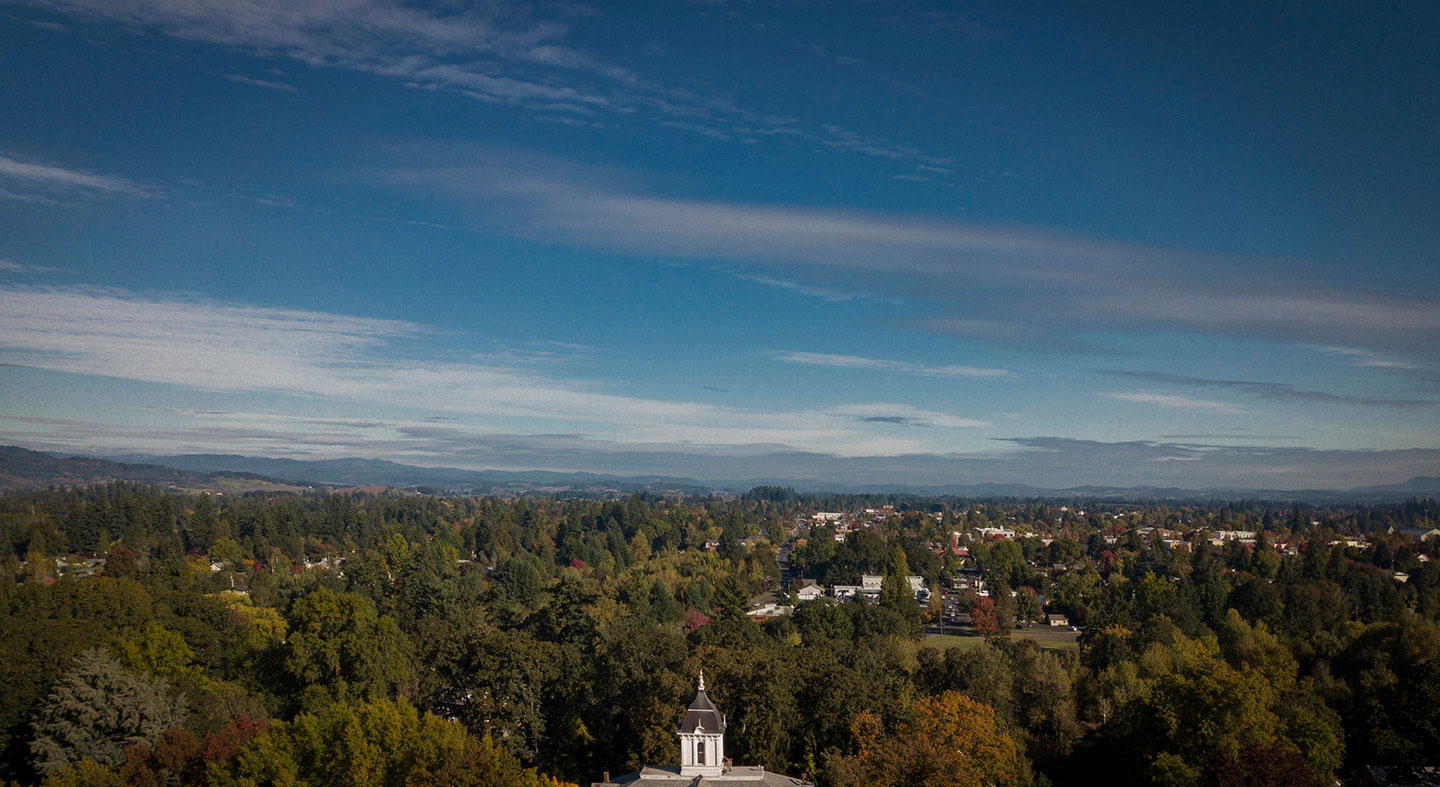 Take a virtual tour of Linfield's McMinnville campus
Welcome
Welcome to Linfield! Here is a brief overview of our McMinnville and Portland campuses before you start your journey around the McMinnville campus.
Academic Quad
Linfield's main quad is home to many of our academic buildings, such as Murdock and Graf Halls (science), Taylor Hall (mathematics) and T.J. Day Hall (business, economics, English and philosophy).
Murdock and Graf Halls
The sciences thrive at Linfield! Learn about Murdock and Graf halls, the home to physics, biology and chemistry.
TJ Day Hall
T.J. Day Hall is Linfield's most modern building, but it's not the newest. It used to be Northup Library but was significantly renovated and is now home to classrooms as well as the business, English, creative writing, economics, and philosophy departments.
Melrose Hall and Student Central
Melrose Hall is Linfield's administrative building and houses many important offices for students. These include Student Central - an all-in-one place for student resources. Student Central is home to career development, financial aid, the registrar, academic advising and learning support services.
Pioneer Hall, Oak Grove and the President's House
See where Linfield students graduate, the home of Linfield's president and Pioneer Hall, which used to house the entire college. Today, Pioneer is the home to the psychology, religious studies and history departments.
Riley Campus Center
The action at Linfield often takes place in the Riley Campus Center. This building is adjacent to many academic buildings and is home to a Starbucks, student government offices, a large lounge, a study lounge, bookstore and a game room.
Walker Hall
Walker Hall is home to political science, global languages and cultural studies, sociology and anthropology. The building also houses Linfield's international programs office, which runs the study abroad program, as well as the student health, wellness and counseling center.
Intramural Field and Residence Halls
The Intramural Field is surrounded by residence halls and is a great place to lay out and study or spend time with fellow Wildcats. It's also home to the annual Wildstock event - a concert only for Linfield students. Recent artists playing Wildstock include Macklemore & Ryan Lewis and Dan + Shay.
Dillin Dining Hall
Dillin Hall is the only dining hall on campus. Learn more about the meal plan options and food choices, including how you can use your plan at the on-campus Starbucks and for grab-and-go items at the Wildcat Express.
Health, Human Performance and Athletics Building
HHPA is where students learn, exercise and compete. It is home to the exercise science major. HHPA includes the recreation center comprised of two weight rooms, a cardio room, a racquetball court and a multipurpose studio. On Friday and Saturday nights, you can watch the Wildcats compete in volleyball or basketball in Ted Wilson Gymnasium.
Athletic Venues
Linfield has 19 NCAA Division III programs and all but two compete on the McMinnville campus. Our venues include Maxwell Field (football/track), Roy Helser Field (baseball), Del Smith Stadium (softball), the soccer/lacrosse field, Ted Wilson Gymnasium (basketball/volleyball), Rutschman Fieldhouse/outdoor tennis courts and the swimming pool.
Living on Campus
Seventy-three percent of Linfield students live on campus. Learn more about residence life at Linfield.
Residence Halls – A Look Inside
Learn more about our residence halls and take a look inside the common area of one of them.
Hewlett Packard Apartments, Del Smith Softball Stadium, Withnell Commons and the Observatory
The south end of campus features the Hewlett Packard Apartments, Withnell Commons, the observatory (marching band office) and Del Smith Stadium (softball).
Bull Music Center
The Vivian A. Bull Music Center is home to Linfield's music department. The building is open to all students and features 10 rehearsal spaces as well as the Delkin Recital Hall.
Nicholson Library
Nicholson Library is the place to go for studying and research. The library has a writing center, electronic media services, private study areas, and stacks on stacks of books.
Ford Hall and Marshall Theatre
Ford Hall is home to Linfield's theatre department as well as communication arts. Performances of all types are held throughout the year in the Marshall Theatre.
Miller Fine Arts Center
The Miller Fine Arts Center is home to Linfield's art department. The building features two galleries, multiple art shops and studios.
Renshaw Hall
Renshaw Hall is home to three majors: journalism and media studies (JAMS), computer science, and environmental studies. Renshaw also features a large computer lab and student media center.